Plus Size Outfit Ideas
Posted by Jen Anderson on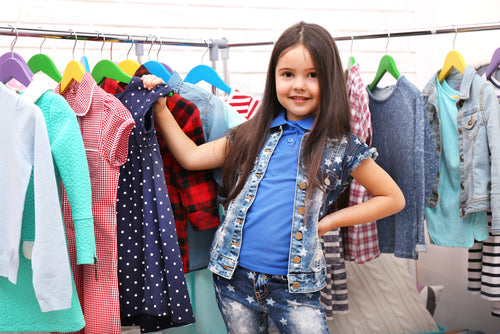 A friend of mine decided that she would combat the February bleakness by coming up with an outfit every day this month and posting photos on social media. That's not to say that she's been walking around unclothed until now. It's just that there's a definite difference between getting dressed and putting on an outfit. But it's hard to say what exactly makes a bunch of clothes and accessories into an outfit.
I'm tempted to say that an outfit requires three pieces. And when we're talking about separates, that's true. But you don't have to add two things to a dress to make it an outfit. An outfit goes beyond covering your body with fabric so that you don't die of exposure. An outfit requires thought and planning. An outfit is intentional.
Why Intention Matters
It's possible to just throw on an outfit without fussing in front of the mirror. Though it does take some thoughtful shopping to get to the point where you can do that. But what you'd wear to work in the garden is different than what you'd wear to the office, which is also different than what you'd wear to a restaurant on date night. Part of that has to do with dressing appropriately. You'd be uncomfortable and feel out of place if you wore your big floppy gardening hat to a fancy French restaurant. But it's also about being present, and caring about where you are and why.
I've written before about having to dress according to who you have to be - the super smart boss vs. the stunning wife vs. the fun friend. This is why Day to Night dressing is so difficult - an outfit can't do both, hence the change of accessories when you're doing Day to Night. 
When you dress intentionally, you come across as confident and that elevates any look. It shows that you planned for your day, knew how to dress for it, know how to put together an outfit, and know how to make yourself look great. 
And now for the ideas...
Variations on the business suit - This is a classic look, but it's not just for the office. I'm talking about pants or a skirt, plus a shell/tank, plus a jacket or cardigan. Whether you're going monochromatic or mixing and matching, this is a powerful look. Even if you run out of the house without a necklace or scarf, it's still an outfit. The jacket or shell is a great way to introduce a pop of color or a print. You can have a lot of fun with this basic combination. The individual pieces is what makes an outfit appropriate for a wedding or a client presentation.
Top + Bottom + ? - A shirt and pants don't make an outfit by themselves, and neither do a skirt and top. You need one extra thing, and you have several options. A scarf turns any assemblage of clothing into an outfit. Multiple pieces of jewelry also fit the bill. One delicate necklace is lovely, but can be a little too ho hum to make an outfit. A single piece of bold, chunky jewelry isn't enough on its own. Add earrings, a ring or two, and maybe a bracelet - then you have an outfit. 
Dress + ? - No matter how stunning the style, or how exuberant the print, a dress by itself isn't an outfit by itself. To make a dress part of an outfit, treat it like the skirt and top in either of the previous looks. Add a jacket or cardigan to fill out the look, or thoughtfully pile on the jewelry, or throw on a scarf.
Plan Ahead
The difficult part of putting together an outfit is...well, putting together an outfit. This top with those earrings and that necklace sounds easy enough, but finding the right combination takes a few tries. If you can, take the time to play dress up with your separates and jewelry and scarves to discover great combinations. You don't have to actually get dressed and undressed - just look at pieces next to each other to see what works.