How to Plus Size Fashion
Posted by Jen Anderson on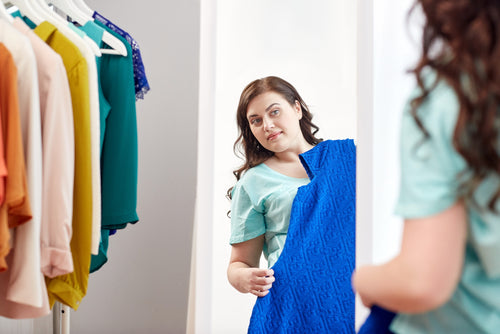 I love using nouns as verbs. It's just so evocative. I mean, how do you plus size fashion? That phrase conveys how mysterious the subject is despite seeming like it should be something straightforward and simple. And yet thanks to the glorious variety of bodies, and the questionable choices of some clothing companies, plus size fashion is incredibly confusing.
What's the Point of Plus Size Fashion?
Is the goal to dress like everyone else and fit in? Somewhat. Is fashion about creating your own personal style so you stand out? Kinda. Both of these things are true at the same time.
What would make me say, "ooh, she is fashioning all over the place?" It would be someone who's comfortable in her own skin - and comfortable in her clothes. She stands out in a crowd, either because her clothes are vibrant or because they're elegantly understated. Ultimately, I think a woman who "does fashion" is one who got dressed without trying on everything she owns in search of something - anything - that works.
And that takes planning ahead.
I suppose that's the appeal of capsule wardrobes. You put a lot of effort into buying ten pieces of clothing and call it a day. If that works for you, great. But the amount of up-front effort required is so great that people get scared off as soon as they begin. And some of us are maximalists who want to have all the clothes, and all the shoes, and all the handbags, and all the scarves.
Fashion is a Habit
Think of it as a hobby. Subscribe to emails from retailers. And then open them. That keeps you aware of sales, as well as the latest styles. It also helps you stay aware of all your options. As plus size women, we're used to being able to shop for clothes in only a few places. But that's changed and if one retailer doesn't have any prints that you love this month, another one might.
But fashion is more than just shopping. It's knowing what works for you - your personality, your body, your lifestyle, and your coloring. Figuring all that out takes some learning, and your tastes and needs change so this is where having a fashion habit really helps. You can educate yourself and add to your wardrobe a little at a time. Let's break it down:
Personality - Are you understated neutrals or exuberant prints? How do you feel about being the center of attention? Are you a fashionista, or an artist, or are you all business? A little bit country? A little bit rock n roll? Knowing these things will make it easier to select clothes that you love to wear.
Body - Apple shaped, pear shaped, long waisted, short waisted and all the rest affect how clothes fit us. Plus size isn't a body shape, and not every piece of plus size clothing is going to be for you. Wearing clothes that work against your body's shape is the opposite of fashion - and the opposite of comfortable. You can't look fashionable if your waistband is binding, or your skirt is too tight across your hips. Clothes that work with your shape let you focus on everything but your clothes, which helps you exude confidence.
Lifestyle - Ask yourself who you want to be today, or who you need to be today. Is it sophisticated? Playful? Intelligent? What about other days? Do you sometimes have medical appointments where you want to command the doctor's respect while also being able to climb up on a table? Do you have special work days where you need to dress a little differently than usual? 
Coloring - Not every color looks good on everyone and that's OK. If yellow and orange don't do you any favors, you can still wear them in a print that includes those colors as well as some that do. There's nothing wrong with only wearing shades of purple. 
You need to think and rethink these things as your life changes. Add to your personal knowledge a bit at a time so you don't get overwhelmed. I've written a lot about this stuff, so dive into my other posts. Or give us a call so we can help you select a few pieces.
2 Comments