Plus Size Day to Night Outfits
Posted by Jen Anderson on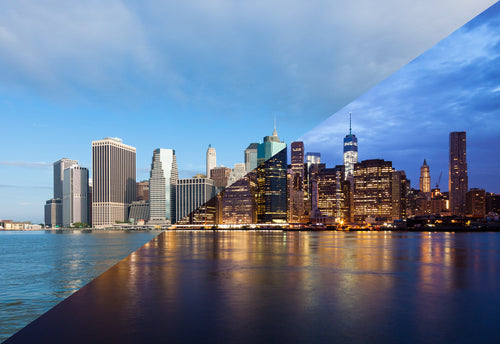 Day to Night outfits are the white whales of the fashion world. It takes obsession to actually find one and no one really believes they exist. In reality, they sort of exist and sort of don't. There is no outfit that looks appropriate at the office and at an evening cocktail party with no changes. But there are plenty of outfits that can make the transition with a change of accessories. 
If you travel via public transportation, this means that you may end up leaving a few things at the office to take home the next day. Or when you check your coat, you can check a big tote with all your things and keep a small clutch with you. If you commute by car, you can perform this quick change standing next to your open trunk. You don't even have to take anything inside if you don't want to.
Versaility
The right pieces can adapt to different situations. If you think of a typical corporate suit, you could lose the jacket and put on a different top, and that skirt is still going to look like a business suit skirt. But (and you know where this is going) if you start with versatile pieces, you'll look like you put on that outfit just for the event you're at, even when you've changed things up three times today.
What makes a piece of clothing versatile? It takes a few things. Lack of details is one. Our Side Slit Maxi Skirt can go to all sorts of parties, but the slit keeps it from being office appropriate. Which is fine. Not every piece of clothing you own needs to be super versatile. But the Straight Maxi Skirt (which is the same style just without the side slit) can go to parties and the office.
Ruffles, beading, and embellishments make a piece too casual to be versatile.
The other thing that makes a pieces versatile is the fabric. Our signature material drapes and moves, so it's not too stiff and corporate for parties. But it's also polished and sleek, so it fits in at the office.
It's All About the Jacket
When I say you just need to change your accessories, I'm not suggesting that a pair of earrings is transformative. Though you should switch up the jewelry. Office wear strikes a balance between dressy and casual. So for the evening look, you might want to go dressier or more casual depending on where the night is going to take you. A different necklace, pair of earrings, and bracelet definitely make a difference. The same goes for a change of shoes.
But the one piece that can take an outfit from day to night is the jacket. The photos on the left show the work look, complete with a 3/4 Sleeve Kimono Jacket in Bronze and the Swing Cardigan in Tulip. Both those looks would be fine at many evening events. But we can kick it up a notch. Change the solid top layer for a print and you've got the evening looks on the right.
What's the Point of Day to Night?
The point is that you are way too busy to change your entire outfit and way too stylish to wear the same exact outfit to the office and the theater. It's about being ready for anything without inconveniencing yourself to the point that you decide to cancel your plans. It's about not worrying about how you look because you know you look just right.