Plus Size Beach Wedding Guest Outfits
Posted by Jen Anderson on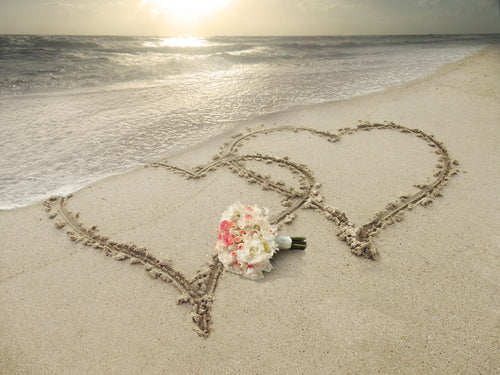 So you've been invited to a beach wedding. Your first thought was probably, "oh, isn't that nice?" And your second thought was, "ugh, what am I going to wear?" This is a tricky one, but I've got you.
Why is This So Complicated?
You've been to plenty of weddings, but this one is a fashion challenge. You may have clothes you wear to the beach, but they're way too casual for a wedding. You have at least one outfit you can wear to a wedding or other formal occasion. (And if you don't, get on that.) But it's not beach-friendly.
A beach wedding guest outfit has to meet several criteria. It has to be dressy, but not so fancy that it will look out of place on the beach. A relaxed fit is appropriate - save the bodycon dresses for another occasion. But you don't want something so long on you that you'll be holding it up the whole time like you're in a Jane Austen book. All that plus it should be machine washable.
Start With The Shoes
We usually pick the dress first and then the shoes, but we need to do it the other way around for beach weddings. You need sandals or shoes that make it easy to walk on sand that are also wedding appropriate. It's a tough order on its own, so let's not add having to match a specific dress to the mix. (If you absolutely must wear heels, then stick with wedges.)
Beaches and pantyhose don't mix, so protect your inner thighs with one of the products I mentioned in 
my post on wearing skirts in summer
. For closed toe shoes, wear no show socks (try them out in advance to make sure they'll stay put), or put anti-chafing cream on your bare feet to keep your shoes from rubbing.
Then Pick the Dress
Our T-Shirt Style dresses are a good fit for beach weddings. It's a casual style, but the material (either our signature fabric or super soft jersey) makes it occasion-appropriate. Pick a fabulous print that goes well with the sandals you picked.
A Maxi Dress is the obvious choice. It's a bit sundressy, and a bit fancy. If you're average height or tall, you won't have to worry about the hem dragging in the sand. A light colored print will be beachy enough for our purposes.
If you want to wear something bold, then consider a caftan. No seriously, hear me out. Caftans are relaxed, elegant, and comfortable. They make a chic statement. The other guests will notice how amazing you look, but you won't upstage the bride. Every fool in shapewear will envy you.
What If You Don't Do Skirts?
In that case Palazzo Pants or even Crop Pants are probably your best bet. The relaxed fit makes them beachy. Add a Sleeveless Shell or Sleeveless Tunic and a Sheer Topper to complete the look.
Don't Forget the Sunscreen
Also bring along a hand fan and some bug repellant in case the happy couple didn't think of those things. Sunglasses are a must, especially at sunset.
I haven't suggested any outfits that you can't also wear off the beach. You may be heading indoors for the reception, and you don't want to buy anything that you can't wear again and again.
Check out our other posts about plus size wedding guest dresses.
1 Comment