Style Tips for Apple Shaped Women
Posted by Jen Anderson on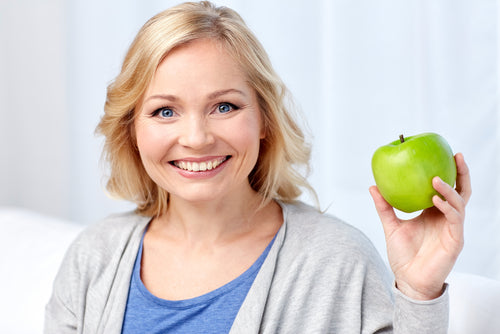 Having an apple shaped body can be frustrating. The other body shapes are all variations on each other. An apple shaped body is different. Not wrong. Not worse. Just different. Like every other body shape, yours is more comfortable in some styles than others. So stop wasting time cursing at your tummy and instead send some appreciation to those great arms and legs you've got.
An oval shaped body carries most of its weight in the tummy. Hips are relatively narrow and there isn't a defined waist. Your shapely legs mean that you can confidently wear short skirts no matter what your age.
Your overall style strategy is going to be the same as everyone else's - don't break up your curves.  You'll just execute it differently since your tummy is a curve as much as a pear-shaped woman's hips are.
Separates
Most separates aren't your friend. If they start and end at the waist, they'll cut you across your lovely, curvy middle. It won't look or feel comfortable. If you want to wear pants or a skirt, then pair it with a tunic or closed jacket so that your middle is an unbroken field of color (or pattern).
Dresses
Apple shaped women can wear dresses that women with other body types can only dream of. They Audrey Hepburn little black dress look? You can rock that look like nobody's business. A Shift Dress or Maxi Tank Dress creates a long, sleek silhouette that skims past your tummy and looks chic as all get out.  
Any dress with a defined waist isn't going to make you happy. But a dress with an unbroken line - like our 
T-Shirt Style Dress
 or 
3/4 Sleeve A-Line Dress
 - works with your middle while giving you a little extra fabric to swish around your legs. An empire waist can add a sense of curviness - and they're ridiculously comfortable. A wrap dress where the wrap is right below your bust (like an empire waist) will fit you perfectly.
Jackets
Wearing a jacket over a dress is an excellent way to change the look. A Blazer takes a Shift Dress to work, while a Sheer Swing Cardigan makes it ready to party. Something sleek like a Kimono Jacket is equally appropriate for work or play. Any jacket that's long and straight fits and looks better on you than any other body shape. 
Oval shaped women tend to have sloping shoulders, so a jacket with shoulder pads creates a bit of structure that's a nice contrast to your curviness.
As for coats, look for an A-line shape like a swing coat. It'll give your middle all the room it needs while adding some style to a cold, gray winter.
Necklines
Scoop, square, and wide v-necklines all draw the eye up towards your lovely face. If you have a relatively small bust, go ahead and rock a turtleneck or halter neck. Women with large chests need to show some skin or visually break up their upper chests with layering, or they risk looking bosomy and matronly. 
Speaking of chests, make sure your bras keep your girls locked and loaded up and off your tummy. Your back will thank you and you'll look curvier.
Less Frustration, More Fun
As always, you do you. You're an adult and I hereby grant you a fashionista's permission to wear whatever you feel like. Every single outfit doesn't have to be optimized for your body shape. 
But clothes shopping is so much less aggravating when you know which styles and shapes look and feel best on your body. Every moment spent frowning at a mirror is a moment you could be doing something much more pleasant. 
Check out our other posts about dressing your apple shaped body.
2 Comments