Flying While Plus Sized
Posted by Jen Anderson on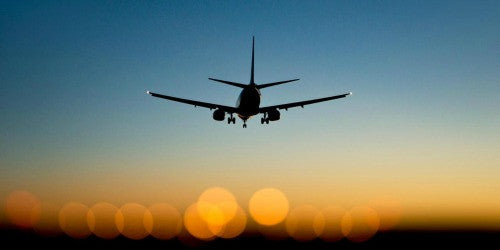 You don't need me to tell you that modern air travel is the pits. And fat people (especially women) are treated like we're part of the problem and not suffering along with everyone else. No one complains that the person sitting behind them is too tall. If a man's shoulders spill over into the seat next to his, that's his seatmate's problem. But if your hips or thighs touch the person next to you, your very existence is an outrage. Until the person next to you dozes off and uses you as a body pillow (true story). 
I spend my life reminding myself and others that I have every right to take up as much space as my body needs. I boldly call myself fat because all that word means is that I have a greater than average amount of body fat. But shove me into a cramped airplane and I know I'll be surrounded by people who think that word means stupid, lazy, greedy and a whole bunch of other nonsense. They'll be angry that there isn't enough room to go around and they might blame it on me.
There are a few things we can all do to keep the not-so-friendly skies as pleasant as possible.
Plan Ahead
I always check Seatguru.com to find out which airline offers the widest seats for the route I'm taking. An inch or two can make all the difference. Window seats tend to have a little extra room between the arm rest and the window, so they're a good choice if you can maneuver yourself into place. 

You know those rows in coach that offer extra legroom in exchange for a fee? They tend not to fill up, leaving empty seats between passengers. Which means you can raise the arm rest and have all the room you need.
If you're a frequent flier, use your miles to upgrade to first class. It's not as easy as it used to be, but it can be done. Airlines are also selling first class seats at a discount, so they're more affordable than ever.
I'm not shy about asking for a seatbelt extender when I need one - it's not my fault the seatbelts aren't made long enough to fit around the largest person who can fit in the seat. But if you're shy about asking, you can buy your own online.
Dress the Part
If you want the other passengers to treat you with respect and consideration, leave the sweatpants at home. Dress like you're going straight to an important business meeting as soon as you land. People will to treat you a little better simply because you're dressed nicely. No need to sacrifice comfort. Our pull on-pants in black or navy are perfect for travel. Add a matching cardigan or kimono jacket and you're good to go. 




Hang in There
Getting there is no longer half the fun, but it doesn't have to be torture. Be prepared and then settle into your too-small seat and keep your nose buried in your favorite book for the duration. 
4 Comments