Fashionable Comfortable Plus Size Clothing
Posted by Jen Anderson on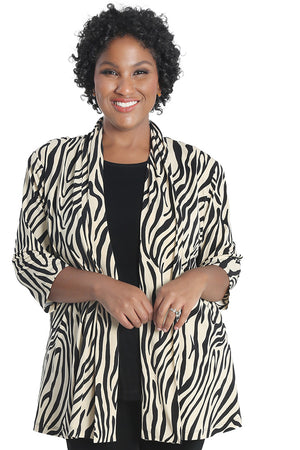 I wouldn't blame you for thinking that fashionable comfortable plus size clothing doesn't exist. It can be hard to find any women's clothes that fit that description. But clothes like that actually do exist. Finding them requires a bit of strategy, which sounds like more work than it actually is.
You already have a clothes shopping strategy, even if you're not aware of it. At the minimum, your strategy is "find garments that fit and aren't hideous." You probably have a more detailed strategy - you have your favorite retailers and brands, for example.
Combining fashion and comfort comes down to fit, which boils down to dressing for your wonderfully individual body shape. You've spent years hearing that women's bodies fit into a few categories. You may even have read articles that consider Plus Size to be a separate shape. Which it very much isn't.
What's My Shape?
It's probably a combination of 2 or 3 of the big five (apple, pear, hourglass, rectangle, and inverted triangle), plus some other details like your height and your waist proportion. For example, I have pear hips and thighs, an apple tummy, my grandmother's upper arms, a short waist, and petite height.
I've written about body shape a lot, and I'll include some links at the end. But now let's talk about...
Why Body Shape Matters
It's because not every style is made to fit your body comfortably. For example, if you have an apple tummy, separates aren't your best friend. Comfort and style aren't compatible with cutting across your curves. You wouldn't wear something with a seam across your bust or hips because the garment wouldn't sit right. It would pull and rub and annoy you all day long. An apple tummy is just another curve that needs to be treated with the same love and respect.
Or my hips don't get along with sheath dresses and straight skirts. I have an A-line body, so I need A-line dresses. Otherwise, my hips don't have enough room to move and I'm uncomfortable.
Comfort = Style
When you don't consider your body shape (like I did for way too long), you end up wearing clothes that don't fit you all over. Nothing looks good and you start to wear oversized, shapeless, shlumpy clothes. Vikki Vi Classics have a relaxed fit, but they're never shapeless thanks to the cut and the fabrics we use. (Our sizes do tend to run large, so pay attention to the size chart. When in doubt, call us at 818-223-8853 during business hours for advice on which size to order.)
Always Be Shopping
Your strategy probably also includes browsing a website or brick and mortar store when you really need to buy some new clothes. But - and hear me out - what if you tried shopping for clothes all the time? Shopping for a full wardrobe refresh is overwhelming and exhausting. Shopping when you don't really, really, really need something specific is low pressure. If you don't find something today, it's no biggie. 
What this looks like is scrolling through New Arrivals instead of social media for a few minutes. It's subscribing to emails so you can find out about the sales and new items. It also means (and I know this is a tough one) knowing your measurements so you can get the right size. It may help at first to write down your personal style guidelines, so you know which styles to reject immediately.
This approach also looks like getting a wedding invitation and immediately worrying about what you're going to wear. There are few things as comfortable as that.
Check out our other posts about dressing for your body shape.
2 Comments