Working While Plus Size
Posted by Jen Anderson on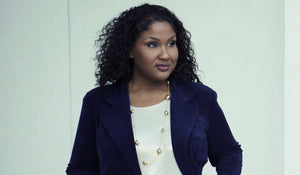 It's not just you. Plus size women are at a disadvantage in the workplace. We're overlooked for promotions and raises. Our ideas are ignored. And part of that is simply because we're women. But our size is also a factor, along with skin color, hair texture, religion, and ability to join the company softball team. I can help you with one of these things.
Dismantling the entire system is going to take a while, so let's focus on working with what we have - colleagues who think we're less intelligent and less competent than our thinner coworkers.
Don't Internalize It

In all likelihood, you're doing a spectacular job. But you're surrounded by people with ridiculous preconceptions. Keep reminding yourself that you're not the problem.

I find it helps to have comebacks prepared. Not that everyone is going to be overt, but when someone starts something, be ready to shut that down. Memorize phrases like, "What does my weight have to do with my job performance?" and "That's between me and my doctor." Let's not forget my favorite, "That's how insurance works. You chip in for my asthma meds and I help pay when you break your leg skiing. Oh, and actually there's no correlation between weight and health. I can send you some links."

I like to deliver these lines with a doe eyed innocence that confuses people into silence.

Bring Your A Game

I don't just mean doing a great job. You're already doing that. But you also need to work for Team You. That means keeping track of compliments from colleagues and customers. That means keeping a list of your accomplishments, and updating it regularly. This info will come in handy when requesting a raise or promotion - and when it's time to update your resume.
This also means socializing with these weasels. Join a team, get involved in a company charity effort and then stick around for the social after the walk-a-thon. Wear the stupid name tag so upper management can learn your name. If you hate to mingle, come prepared with five conversation starters.

Get yourself an official or unofficial mentor. People are incredibly generous with advice, so don't be shy.

Dress the Part

Other people get to play fast and loose with the company dress code. You don't. I'm not just talking about rules like no open toed shoes. You should wear a nice version of what everyone else is wearing.

Not that you should be spending $500 on suits when your salary really isn't high enough for that sort of thing. But if your company wants you wearing a suit, fill your closet with pants, skirts, shells, and jackets from the Classic Collections. If your company is a bit more relaxed, then stock up on Short Sleeve Tunics and 3/4 Sleeve Tops. Fit is crucial here - strive for not too tight and not too loose.
Be thoughtful about wearing prints in the office. Some prints would be fine in any workplace, while some would be too casual. It varies from office to office.
If you absolutely have to keep a cardigan around in case of overactive air conditioning, make it a Vikki Vi 3/4 Sleeve Cardigan because it will keep its good looks a lot longer than that pilly, saggy thing you've been wearing. That way when you slip it on, the cardi will enhance your outfit rather than cover it in a shapeless mess. Just don't hang on the back of your chair - it'll stretch out and get longer that way. Roll it up and leave it in a drawer.
It's All About Confidence
When your clothes make you feel confident, your colleagues will start seeing your competence instead of your size. 
Shop Classics Now to kick your work wardrobe up a notch.