Why Your Plus Size Pants Don't Fit Right
Posted by Jen Anderson on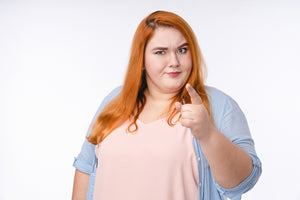 It's a perfectly natural assumption that women under 5'3" wear petite length pants, women over 5'9" wear tall length, and women in between wear regular length pants. And in many cases, that's correct. But if your waistbands tend to hit you in an uncomfortable spot, there's more to it. 
All these standardized sizes are for the convenience of the people selling clothes, not for the people wearing them. Of course, these categories are super helpful when shopping, but they tend not to consider all of the possible variations to our bodies. Back when clothes were made to order, no one had to think about these things. 
My point is: There is absolutely nothing wrong with your body. Your knowledge of women's clothing could maybe be expanded - but that's why we're here.
Short-waisted vs. Long-waisted vs. Regular-waisted
The long and the short of it (see what I did there?) is that your legs might not be the length you think they are. Or what clothing designers expect them to be. 
Figuring out how long your waist is actually isn't that complicated. First, find your natural waist by bending to the side. That spot where your body creases as you bend? That's your natural waist. Next, place one hand on your torso right below your bust. Then place your other hand below it.
A balanced torso has two hand widths between the bust and the natural waist. Less than that and you've got a short waist. More and you're long waisted.
Now what?
If you're long-waisted, your legs may be shorter than you thought. So if you wear regular length pants, try petite. Or switch from tall to regular. 
If you're short-waisted, try longer pants then you usually wear.
With this one change, you may find that your pants are fitting you more comfortably than before. To be extra sure, you can start paying attention to your inseam. It's an important measurement, but taking it requires letting someone get up close and personal with your personal parts. Since we suspect that the pants you already have are the wrong length, you can't just measure your pants to find out your inseam. You going to have to measure your body. 
Get a measuring tape and someone you love, and have them measure you from the top of your leg to the ankle. You could also ask a tailor to measure your inseam while you're having something made or altered.
Belts
Another problem could be that you wear belts that are too wide for you. If you have a short waist, stick with skinny belts (which can look really cute on us plus size women). Long waisted women can wear either skinny or wide belts, but may be happier with how wide belts fit them. 
You can do this.
I know it's aggravating to have to juggle one more detail when shopping, but at least this isn't exclusive to plus size women. The tradeoff is that you won't have to tug at your clothes all day. You'll look and feel more comfortable and confident. And you deserve that.