Upgrade Your Plus Size Office Cardigan
Posted by Jen Anderson on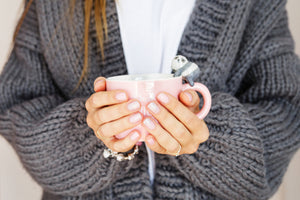 If you have a desk, there's a good chance that you have a cardigan draped over the back of your desk chair. If you have an office, it might be on a hanger. It's black, maybe gray. It's not the prettiest piece of clothing you own, but when the office air conditioning is blasting, you're not picky. But if you're really honest with yourself, it's a shapeless lump that you wouldn't wear in front of clients. You can do better.
Why?

Everyone has a schlumpy office sweater, so why do you need to upgrade yours? The infuriating fact is that plus size women are perceived as sloppier and less intelligent than their peers. We have to dress more nicely to compensate for other people's incorrect opinions. You may not care what Stu in Accounting thinks of you, but your boss, your boss' boss, and that person's boss control your annual performance review and raise. You are constantly running a PR campaign to get them to reward you for your skills, talent,and hard work.

What To Look For

Not every sweater is cut out to be an office sweater. It should be a neutral color so that it goes with all your work outfits. Black and Charcoal Gray are solid choices. They go with everything. Depending on your wardrobe, Navy or Light Taupe may be a good choice.
Shape is important. Ideally, you'll look really put together in this sweater, as if you selected it especially to go with the rest of your outfit. The Swing Cardigan, 3/4 Sleeve Cardigan, and 3/4 Sleeve Kimono Jacket are all excellent choices for an office sweater. Depending on where you work, you might want to go with a Blazer. It'll keep you just as warm as a cardi, and if a more formal style of dressing will help you get ahead, go for it.

Treat Your Office Sweater Well

Whether your sweater is a Vikki Vi Classic or hand knit from the finest merino wool it's going to turn into a mess if you hang it up. And yes, draping it over the back of your chair counts as hanging. Knits will get stretched out when you hang them. Even the lightest knit will be pulled down by its own weight. Gravity is your sweater's greatest enemy.
Store your office sweater the same way you store your Vikki VI Classics at home - rolled up. Then stick that baby in a drawer or structured bag stashed under your desk.

Don't forget to take your office sweater home for regular washing. How often? That's between you and your sweat glands. If you're constantly cold and never break a sweat at work, then monthly washings are sufficient. If you've been getting frequent visits from the Hot Flash Fairy, weekly washings are the way to go.

Is It Really Worth It?

I know your lumpy old sweater is cozy. I'm not saying you should throw it out, just wear it around the house or even around the neighborhood. Just not in the office. I know it's a hassle to actually put some effort into a piece of clothing that's usually an afterthought. But you put so much into assembling your work outfits that you shouldn't spoil the look when the office gets chilly.
Shop For Your New Office Sweater Now
6 Comments