Where To Wear Your Plus Size Statement Clothes
Posted by Jen Anderson on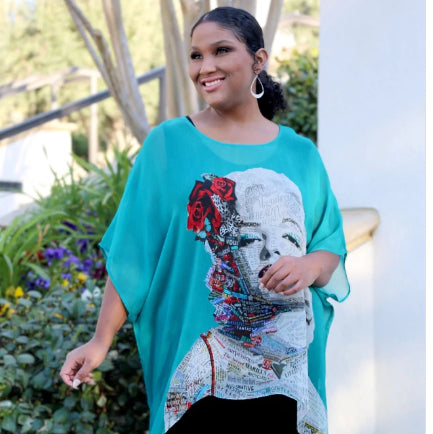 If you're like me, you have a small collection of statement clothes that spend way too much time in the closet. Or you fall in love with stunning pieces all the time, but never buy because you have no idea where to wear statement clothes. I get it - when you don't get much wear out of an item, the Cost Per Wear is ridiculously high. But wearing bold statement pieces makes you feel like a million bucks. So let's come up with some excuses to slip into those fabulous things.
Parties
Obviously. Our statement jackets get a lot of use during the Holiday Season. If you can't stand out and sparkle on New Year's Eve, then when can you? But then we pack away our faves until next December.  
It doesn't have to be that way. We all need more parties in our lives - especially in cold, gray Winter. You don't even have to put in a lot of effort. Way back when, my grandparents would invite their friends over on Saturday nights. They'd all get dressed up, buy a bag of apples for snacking, and dance the night away while all the kids pretended to be asleep upstairs.
The more often you have fun get togethers with friends, the less pressure there is. Pressure to make a ton of food, pressure to invite every last acquaintance, and pressure to have an actual reason for a party. 
The Art World
The theater, art museums, art galleries, concerts - they're all frequented by artsy older ladies whose clothes are anything but understated. Being in the same room as one of these women makes me feel cooler by association. Which is why I adopt that look as often as possible. All it takes is a statement jacket, bold necklace, or a big ol' cocktail ring (or all three) and you can be the most interesting person in the room.
Restaurants
Brunch or girls' night out are perfect opportunities to wear a bold jacket. But why not date night? Or plain old I Don't Feel Like Cooking night? Food always tastes better when you're dressed up. Sure, very few restaurants have dress codes these days but that doesn't mean you have to dress down. I used to know a woman who wore her wedding dress out to dinner on her anniversary every year. Compared to that, wearing a sparkly jacket seems hardly eccentric at all.
At Home
If you're not going anywhere, then it doesn't really matter what you're wearing. It doesn't matter if you're wearing worn out sweatpants. And it doesn't matter if you're wearing something with sparkles, sequins, or fringe. So why not wear that fabulous jacket? 
Let's face it. Sometimes the best part of going out is the getting ready part. So why not get all dolled up and then relax instead of worrying about finding parking.
What Is The Statement, Anyway?
Statement jackets and jewelry and so on are all eye-catching. They say that you're not going to hide, try to look small, or diminish yourself in any way. Sometimes we need to remind ourselves of that, and statement clothes are a fun way to do it.