The Plus Size Guide to Dressing for a New Job
Posted by Jen Anderson on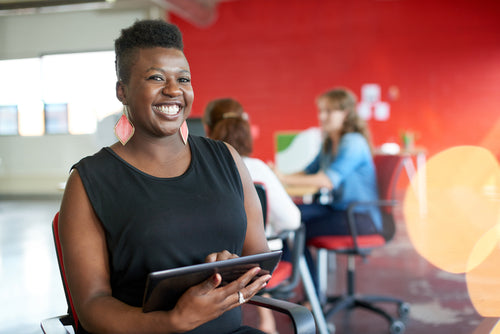 Starting a new job can feel like the first day at a new school. You don't know anyone, you're completely clueless about the unspoken rules of the place, and social rejection could really hamper your performance. Your clothes convey a lot about you so you want to get it right. 
No one has an unlimited clothing budget so you can't fill your closet with new clothes before you start your new job. Especially if you've been out of work for a while. But even if you're just moving from one job to another, you don't want to buy an entirely new wardrobe before you get the lay of the land at your new gig.
Even in a bad economy, it's still possible to land a new job. And you still need to dress the part if you're working remotely. (It's all about the video chat these days.)

Start Early

You can start figuring out the office dress code during your job interview. You might be so focused on making a good impression that you don't pay attention to what everyone else is wearing. But try to form a mental picture while you're telling them what you would do if you found a spider in your kitchen - a real interview question, by the way.

If someone put on a necktie or jacket to interview you (especially if it was via video chat), that definitely sends a message about how formally your new co-workers dress. 

Do Your Research
Be sure to ask Human Resources or your new boss what the office dress code is. Since 'business casual" means different things to different people, they may not be especially helpful, but it's a good place to start. Search online for photos of employees. The company's website or annual report may feature actual employees. I once appeared in my employer's annual report pretending to type and scowling about being dragged away from my desk in the middle of a hugely important project. But even my colleague who actually wanted to be there was dressed in one of his usual outfits, so you could definitely judge office dress code from similar photos.

Your Day 1 Outfit

With any work outfit, you want to show how well you can conform while still maintaining your individuality. On your first day, you want to lean into the conformity part of that. Think basic and generic. Black and Navy are always safe choices. Rich yet subtle colors like Sangria and Cobalt Blue also work well. Save brighter shades like Lagoon or Chartreuse for later in the week.

Day 2 and Beyond

Once you've gotten a feel for your new office environment, you can start injecting personality into your work wardrobe. By the time you receive your first paycheck, you'll know exactly which pieces in your closet will remain in heavy rotation and what new clothes you need. 
Of course, if you work remotely at first and then start working in an office later, you'll have a second first day ahead of you. Your new colleagues may be a lot more dressed up in person. Or your new company might adjust their dress code to be more casual once everyone goes back to wearing shoes every day. In that case, you should be prepared to make the necessary adjustments.