How to Dress Modestly with Style When You're Plus Size
Posted by Jen Anderson on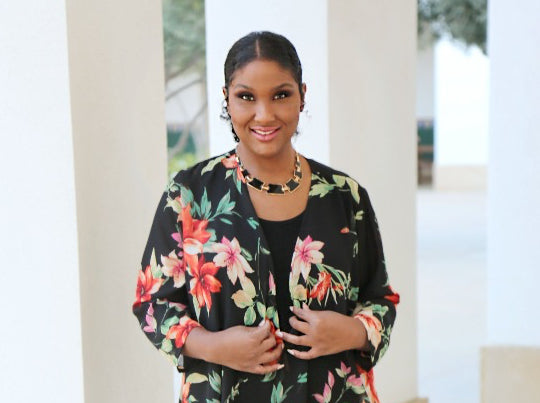 A lot of people think that dressing modestly means wearing the frumpiest clothes you can find. They see certain Little House on the Prairie-inspired outfits and think that's all there is to modest clothing. People who actually dress this way know better, though they may have trouble actually finding clothes that are both modest and stylish. Whether you're new to modest dressing, or you'd like to up your modest style game, I have some tips and suggestions.
The Specifics
Different religions have different rules for modest dressing, so I actually can't go into specific necklines or sleeve lengths that will work for everyone. Besides, religion isn't the only reason to dress modestly. You might want to limit sun exposure or conceal a scar or a million other reasons. How much skin you do or don't show is entirely up to you. 
Jackets are Your Not-So-Secret Weapon

A top layer can add a lot of style to an outfit while also adding sleeves. In warm weather, a light sheer topper or kimono robe can keep you covered and cool. Our Prints collection has Kimono Jackets and Cardigans in patterns that can add a lot of personality to your ensemble. We carry the same styles in solid colors in both Jersey and our signature Classic finely ribbed stretch knit fabric.

Keep a fabulous jacket handy to slip on when you want to look stylish in a hurry. It's also helpful if you tend to be less covered up at home. You can easily throw on a jacket or cardigan on your way to answer the door. 
Don't Forget Scarves
A scarf can keep your neck and upper chest covered while making you look super fashionable. (Check out my post on ways to tie a scarf for some great and easy styles.) Most people only know one or two ways of wearing a scarf, and some don't even wear scarves because they think they're too complicated. So if you become comfortable wearing a scarf, you'll quickly become the most fashionable gal on the block.
As of this writing, we have generously sized oblong scarves in our Classic material. Snap them up while you can.

Tunics are Your Friend

Some of our tunics are a few inches longer than our regular-length tops. They're perfect for long-waisted women who don't want to show a little midriff when reaching for something on a high shelf. Other tunics, like our Bias-Cut Tunic, are long enough to cover your rear-end. The a-line shape of those styles is very on-trend.

Leggings Can be Part of a Modest Wardrobe

If you want or need to keep your legs covered, sometimes tights will do the trick. But leggings are a more comfortable (and durable) option. We make Slim Leg Pants in our Classic material and our lighter Jersey knit. Wear them under a skirt that's shorter than you'd usually wear. Keep an eye out for Slim Leg Pants in prints. 
Modest Doesn't Mean Hiding
What our customers love about Vikki Vi is that the fabric skims over their curves. That makes for a happy medium between bodycon fitted clothing and baggy, shapeless pieces. You can show off just enough of your shape while also concealing it.
1 Comment