Plus Size Religious Wedding Guest Outfits
Posted by Jen Anderson on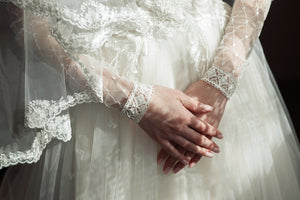 Obviously, I mean other people's religions or denominations. If you can't reach into your closet and pull out a wedding guest outfit that's appropriate for your own religious customs, then we need to have a chat about stocking up on some versatile plus size clothing. But with other people's traditions, you may need to cover more skin than you're used to and that can be a challenge.
Of course, the obvious solution is to buy an outfit that adheres to the rules and then never wear it again. But that's bad for your budget and the environment, and it's not going to get you an outfit you're happy to wear. And nobody has a really good time wearing an outfit they don't love.
Don't Assume

Different religions have different modesty rules, so you should ask the happy couple. They may include this information with the wedding invitation, but if you're a smart shopper you start thinking about your outfit as soon as you receive a Save the Date card. Besides, you don't want to accidentally match the bridesmaids or the tablecloths, so you need to ask about colors anyway.

The dress code may be a bit more relaxed at the reception than at the ceremony, so you may just need a jacket or shawl on top of an outfit you'd wear to a secular wedding. Don't discount sheer sleeves - many forms of religious modest dress allow them.

If long skirts are required, be sure to ask about slits. For example, Vikki Vi's Side Slit Maxi Skirt can show a peek of leg that may be a no-no. Back slits tend to be a safer bet since they don't reveal as much skin as a side slit. But it's always best to ask.
Go Shopping In Your Closet

This is one of those times when your versatile classics can really come in handy. Creating a religious wedding guest outfit may just be a matter of combining pieces in an unusual (for you) way. 

Vikki Vi's 3/4 Sleeve Cardigan buttons all the way up to the top. So does our Camp Shirt. You may always wear them open, but could wear them buttoned up for a religious wedding. Quite a few of our separates have round necklines, which may be high enough for some traditions. The Jewel Neckline Maxi Dress also has a relatively high neckline - just add a jacket to cover your arms.

Shop Wisely

If your foray into your closet wasn't completely successful, resist the urge to plonk down a small fortune on a dress you'll never wear again. If you find something that offers the appropriate amount of coverage and you absolutely love, then go for it. But if not, look for a dress/jacket combination so you can mix and match the pieces after the wedding.

A Little Effort Is So Worth It

It's important to respect the happy couple's wishes. Their wedding isn't about you, so your views on exposing or covering elbows and collarbones don't matter. But you also don't want to resent them for forcing you to buy and wear something you hate. If you take the time to find something that satisfies both you and the wedding's dress code, you'll be able to relax and celebrate your loved ones.
Check out our other posts about plus size wedding guest dresses.
1 Comment