Plus Size Tunics Are Having a Moment
Posted by Jen Anderson on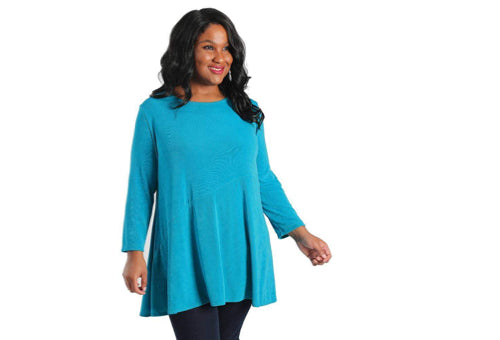 Now, this is a casual trend I can get behind. They're fun, they're swingy, they're stylish - what's not to love? There are several types of tunics and some of us are hesitant to expand our wardrobes, so let's talk tunics.
Know Your Tunics
I wish I could say a tunic is a tunic is a tunic, but I can't. Some tunic styles will take your breath away and other will elicit a shrug. If you're tall or long waisted, some tunics are just tops that are long enough for your frame. If you're petite, longer tunics may be dramatically long. Looking at photos online can give you a hint, but your best bet is to look at the Center Back measurement. Figure out which tunic lengths you like best by measuring your favorite tunics, then keep that in mind when shopping.
The shortest tunics are those that are a just a few inches longer than regular length shirts. Most (but not all) of the tunics in Vikki Vi Classic Collections are this length. They're timeless, classic styles with some extra length. If you're tall, long waisted, or have a bit of a tummy, these are a good option for you. If you can't reach for something on a shelf without exposing your midriff, you may want to choose this type of tunic in place of regular shells and tops.

Most styles of tunic end below your hips. Swing tunics have lots of volume. A-Line Tunics are similar, but with a more pronounced A shape. Shark Bite tunics are shorter in the middle than on the sides. Handkerchief Hem tunics have a similar shape, but more volume. Bias cut tunics have the swingy movement of a swing tunic, but with less fabric.

Finally, there are tunics that go almost to your knees. These create such a dramatic look. It's all the fun of wearing a minidress with none of the bare skin.
What To Wear With Tunics

Some women like to balance out the volume of a tunic with a closer-fitting piece like leggings. It's a classic silhouette. But you're not restricted to that. Our Pull-On Pants and Crop Pants are narrow compared to most tunics, so they provide visual balance. Here is where I'm supposed to warn you against wearing Wide Leg Pants with a wide tunic, but it's actually isn't an objectively bad look. It may be too much fabric and volume for you. But it can also be a relaxed, bohemian look that you might enjoy.

Wearing skirts with tunics can be tricky. Longer tunics have a skirt-like shape and feel, so adding an actual skirt may look a bit off. Or you may love how they look. Trust your own judgment on this one.

You may want to seek balance in the length of the pieces. A long tunic paired with pants looks nice because there's only one horizontal(ish) line across your body. Crop Pants or a skirt that isn't a maxi skirt creates its own horizontal line. Try different combinations to find the ones that you like. You may not like any of them, or you may like all of them. I don't put any faith in those style rules meant to make you look taller than you are, so you do you.
Whew!
The wonderful world of tunics is a lot more complicated than I thought. But once we each figure out which ones we love, shopping becomes a lot easier.
1 Comment