Plus Size Summer Wedding Guest Outfits
Posted by Jen Anderson on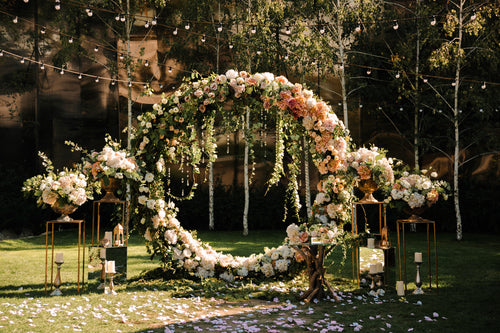 Summer wedding season is still in full swing, and small events are more popular than ever. When you're one of 10 people at a wedding, you're going to be in a lot of photos, so your outfit is important. And if you're attending via video chat, dressing up will make it feel more like an occasion. I don't want you making stressful last-minute decisions, so let's get started.
The Standard Guidelines Still Apply
Summer weddings mean you're going to be outdoors for at least some of the time, even if it's just on your way into the frigid air conditioning. You need to go with light layers. Jersey is your friend here. Sheer cardigans and toppers also work well. If you're concerned about overly enthusiastic air conditioning, carry along an extra layer that works with your outfit. Vikki Vi Classics can survive being shoved into a bag without wrinkling, so they're a good choice.


If you can, find out what "the bride's colors" are. You don't want to wear anything too similar to the decorations or bridesmaid dresses. The shorter the guest list, the more important this is. Prints look great on camera, so don't shy away from them.
Don't wear white, of course. But you should also check to see if there are other colors you shouldn't wear. For example, you may have to avoid black because of religious traditions.
You'd never go to the pool without sunscreen, but weddings can make us forget about the usual precautions. Apply a non-greasy, non-staining sunscreen when you get dressed, and reapply as necessary. 
Comfortable Shoes
This applies to all weddings, but we all tend to ignore it so it bears repeating. Wear shoes that you can wear for the duration. Switching into flip flops or taking your shoes off is fine for beach weddings, but it's best to avoid blisters and sore feet altogether.
Protect Your Thighs

You're not going to wear hose or tights to a summer wedding, so if you're wearing a skirt you need to do something to prevent chafing before it starts. I've written about this before, but essentially, there are products made to reduce friction in that area. You can also get lingerie-like shorts to wear under your skirt.
Don't Forget the Mask
You may need to wear a mask for some of the festivities. A mask that matches your outfit would be stunning. But any mask that coordinates will look lovely as long as it's not too casual. Skip the bandanna print, though a floral would be fine.
I've seen a lot of masks made from prints featuring The Golden Girls, Harry Potter, and Nicolas Cage. These are adorable for everyday wear but fall under the Don't Draw Focus From the Bride rule. Set aside an appropriate mask when you plan your wedding guest outfit so you don't end up scrambling at the last minute because your only clean mask is covered in the Batman logo.

Have Fun

It's all too easy to dread a wedding - relatives you dislike, a drunken uncle, a too-loud DJ. Will you get there on time? Is your outfit OK? We can forget that we're there to celebrate the happy couple. They put a lot of effort into planning a great party for you, so relax and enjoy it.
Check out our other posts about plus size wedding guest dresses.
2 Comments