The Plus Size Guide to Staying Cool This Summer
Posted by Jen Anderson on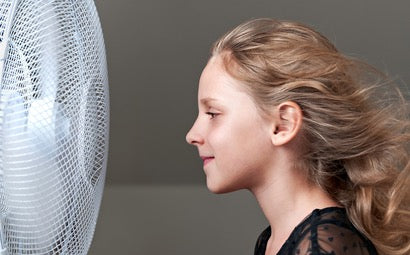 It's not just you - this summer has been hotter than expected. Staying cool in summer is more than just a matter of cranking up the air conditioner and eating some ice cream. Every plus size woman knows that feeling physically uncomfortable is a huge distraction. You don't have to accept sweat rashes and chafing as a normal part of hot weather.
Embrace the Sweat
Or at least acknowledge that it exists. That old saying - animals sweat, men perspire, and women glow - hasn't done us any favors. Sweating can cause rashes in all our nooks and crannies, so pretending that we don't do it keeps us from seeking out ways to address these issues. 
Moisture-wicking bras and undies pull the sweat away from our skin before it can cause discomfort. Moisture-wicking bra liners that go under your bra band are also effective. Some women apply antiperspirant to the underboob and undertummy areas. Body powder can absorb sweat, but avoid powders that contain talc which has been shown to cause ovarian cancer. 
I've recently discovered disposable cooling wet wipes. They come individually wrapped and contain menthol. They're so much more better at cooling you off than a plain towel. But speaking of towels, consider keeping a soft washcloth or small towel with you to dab the sweat off your brow (and anywhere else). It's more efficient than reaching for tissues or waiting for the sweat to evaporate.
I've already discussed the different ways to protect your inner thighs while wearing a skirt, and should definitely deploy those tactics all summer long. There are silicone-based lotions you can apply to the area to prevent friction. I'm partial to shorts designed specifically to be worn under skirts and to stay put all day long. Thighs are the reason why I always recommend crop pants over shorts. Shorts can ride up, leaving your poor inner thighs to chafe.
Dress for the Heat
In some parts of the world, summer is too hot to wear regular Vikki Vi Classics. The acetate/spandex blend drapes beautifully because of the fabric's weight, which can be too much in the summer. Some women think this means they have to pack away all their Vikki Vi. But Vikki Vi Jersey Classics are made from a much lighter fabric that's perfect for hot weather.
When it comes to summer outfits, certain styles are more likely to keep you cool than others. I'm strongly in favor of bare arms. Cover 'em if you want to, but don't wear sleeves if they're going to make you sweat and you're afraid to show off your upper arms. Sheer toppers can help you strike a balance here.
You might think that loose clothes would smother you in excess fabric, but breezy, flowy clothing can keep you cool all day long. It's all about air flow. Caftans are fantastic for this, plus they save you from having to slather yourself in sunscreen. If you're not ready to go full caftan, a tunic can create a similar effect. 
Staying Cool is Serious Business
Unless there's an extreme heatwave, we tend to think of keeping cool as something optional, even frivolous. But your health and comfort are nothing to take lightly. You deserve to keep cool in summer. It may take some effort to build a breezy summer wardrobe and a collection of sweat-mitigating items. But you're absolutely worth it.