Plus Size Clothing Sizing
Posted by Jen Anderson on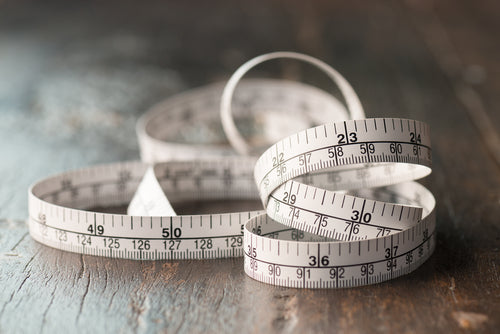 Let's face it - women's clothing sizing is inconsistent and frustrating, and plus size clothing sizing is the most frustrating of all. Years ago, I was shopping in a mall with my now-husband and he needed to get some pants. He walked over to the wall of pants, grabbed a pair, and paid for them. I was as stunned as I was annoyed. 
The whole reason we prefer to shop in person is because women have to try on everything. And I mean EVERYTHING. I once bought 2 pairs of jeans - the exact same style and size. Of course I only tried on one pair. The other pair was mislabeled and was so tight that it cut off my circulation. If only I'd brought along a measuring tape like stylists suggest.
Finding the right size can actually be easier when shopping online because the measurements are right there for you to check. Of course, this information is useless unless you know your own measurements and/or the measurements of your favorite pieces. 
Your measurements and clothing sizes are completely neutral information. It's just data. 
Check the Sizing Info
Here's where you can find the link in our new website design:
Click that and you'll get a pop-up with so much helpful information (if I do say so myself). It starts with this:
When a sizing chart includes only one number in each box, that number is referring to the garment's measurements. If there's a range like 50' - 52", the number is referring to your body measurements. 
Read the Description Closely
There are only a few ways to make fabric. You can weave it, knit it, crochet it, and probably macrame it. Only one of those methods results in a fabric that stretches - knitting.
If a garment description includes the word "knit", then it will stretch. That means there's some wiggle room with the sizing. If the word "knit" isn't there, the fabric doesn't stretch. 
Most of our clothes are knit, but a few pieces are woven, like our sheer toppers. 
Speaking of knit fabric, please, in the name of all that is good and fashionable, do not put knit clothing on a hanger. It will stretch. If you don't have the drawer space, use one of those hanging shelf thingies in the closet. 
Don't Forget Body Shape
Shopping became so much easier once I realized how important this is. If you have a pear-shape like I do, a dress or long top with straight sides is either going to be too tight across your hips, or too loose everywhere else. Not every style is going to make you happy no matter what size you order.
When in Doubt, Call Us
This won't work with larger retailers because their customer service reps will only have access to the same information that's on the website. But we're a small operation. You can give us a call and we can help you figure out which size to order, and which pieces will work best with your body shape. For non-Vikki Vi brands, we can pop into the warehouse and measure a garment to make sure.
Don't Ask Why
I know. You want to shout your frustration to the heavens. It's unfair that women's clothing sizes are so complicated. But this is just how it is when you buy ready-made clothes. Back when everyone's clothes were homemade or tailormade, it was easy. Everything was made for your specific measurements, but it took a lot of effort. So navigating plus size clothing sizing may be a pain, but it also takes less time and energy than sewing them yourself.