Building a Work Uniform That Doesn't Get Boring
Posted by Jen Anderson on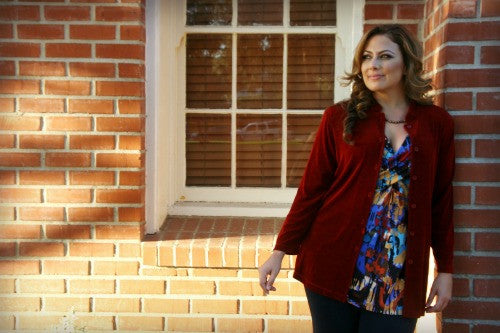 A work uniform makes it easy to get dressed in the morning, but it sounds like the most boring thing in the world. How can anyone suggest I wear the same thing every weekday when there are so many different things I could be wearing? Will no one think of all the cute tops just waiting to see the outside of my closet?
Kidding aside, a work uniform is super convenient. You have enough to deal with in the morning without having to put together a new outfit. And if you're the type to plan your outfits before bed, you're a better woman than I am.
It sounds dull as all get out - pants, shell, jacket. Every day. Yawn. But it doesn't have to be.
Build Variety Into Your Uniform
You can always vary the color of the pants and shell, but jackets are where you really get to enjoy some variety.

In the Black Collection alone, you can choose the Shawl Collar Jacket, Swing Cardigan, Blazer, 3/4 Sleeve Cardigan, One Button Jacket, Kimono Jacket, Long Kimono Jacket, Swing Jacket, and Kimono Duster. 

That's a lot of variety right there. Then add different color jackets and prints, and you could go a long time without repeating an outfit. 
An important piece of the puzzle is planning to vary your outfits instead of wearing the same combination over and over again. Yes, you like how Deep Emerald pants look with a matching jacket, but you'll get bored wearing your favorites over and over. 
Create a Routine
Hold up- the whole work uniform thing is about not having to plan ahead. The trick is making it easy for yourself. You can build variety into your work uniform by changing the way you put your clothes away. I'm not suggesting you reorganize your closets. That's a huge job. But maybe just a minor reshuffle. 

My closet has everything sorted by type. Dresses, then jackets, then tops (including shells). Pants go in a drawer because I just don't have that much closet space. What I'm suggesting will work better if you do the same, but you do you.

To create an endless variety of outfits, all you have to do is reach for the shell and jacket that are farthest on the right. Make sure the colors go well together, of course, but you get the idea. Then when you put your clothes away, hang them on the left side of the section. So the jackets you haven't worn in a week or two will be on the far right, waiting to be worn.
As long as you don't have the same number of shells and jackets, you should be able to mix and match without thinking about it. Overachievers can plan out combinations in advance, possibly using an app like Stylebook.
Keep Building
Every now and then, buy a new piece to add to the mix. New colors and prints can make a big difference. Depending on your job, you may even be able to add sheer toppers to your work uniform. Add skirts to your uniform and you have even more variety. 
Before you know it, you'll be creating lots of fabulous outfits without having to spend a lot of time thinking about it. That's what effortless style is all about.