Plus Size Holiday Party Outfits You'll Wear Again
Posted by Jen Anderson on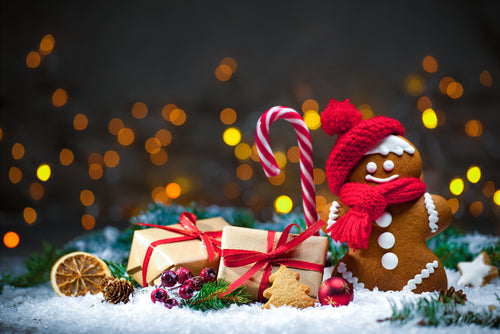 Put down the deliberately ugly holiday sweater. We need to have a chat. And not just about how on earth the Ugly Holiday Sweater became a trend. And you in the back with the Christmas Red/Christmas Green top, and your friend with the Hannukah Blue and White dress? You need to listen up too. You know better than to buy something that you can only wear once (or once a year). But THE HOLIDAYS have a way of taking over our brains. 
Yes, this is a special time of the year. The days are painfully short so we throw as many celebrations as possible to take our minds off of that. Buying a new outfit is just part of the whole thing. But that doesn't have to be an outfit so specific to the holidays that you can't wear it in January.
But I Wanna...
OK, OK, I have nothing against holiday colors. But when you combine them in one garment, it becomes too specific to wear at other times of the year. But! That doesn't mean you couldn't wear a
Garnet Maxi Dress
topped with an
Emerald Kimono Jacket
. They just happen to be Christmas Red and Christmas Green. Since they're separate pieces, you can mix and match them with less festive shades year round.
Or you could go monochromatic. Red looks best on people with warm complexions and Emerald on people with cool complexions. Wearing them together makes the look work on everyone, but if you picked only your color it would still come across as that specific holiday shade. Because it is.
What About Non-Holiday Colors?
You can look holiday appropriate in a versatile outfit. Long time readers will probably guess where I'm going with this. That's right - 
TOPPERS
and FASHION JACKETS! Don't even try to tell me they're too showy. You were just considering buying a sweatshirt with a giant red-nosed reindeer on the front. And if you weren't then you may be attending a party with someone in that exact shirt.
A Topper or Fashion Jacket will make you stand out in the best possible way. If you've been waiting for the right occasion to treat yourself to a topper, this is it. Debut that bad boy at your cousin's holiday brunch, wear it again at your neighborhood cookie exchange, and then pull it out of the closet every time you want a little zazz in your outfit. Weddings, graduation parties, school reunions, lunch with friends - you'll keep finding excuses to wear it.


Some Fashion Jackets are bold and bright, but others are subtle so you don't have to go too far out of your comfort zone.
As for the rest of your outfit, wear a solid color that works well with your
Topper
. Or just wear
black
- the most neutral of all the neutrals.
Don't Lose Your Mind Over The Holidays
Contrary to what some of your relatives may say, you can't ruin the holidays for everyone by not wearing a specific outfit, cooking a certain dish, or declining an invitation. And if you want to wear something a little kitschy, then holiday earrings and brooches can fill that role without taking up much room in your closet or budget.