Style Tips for Pear Shaped Women
Posted by Jen Anderson on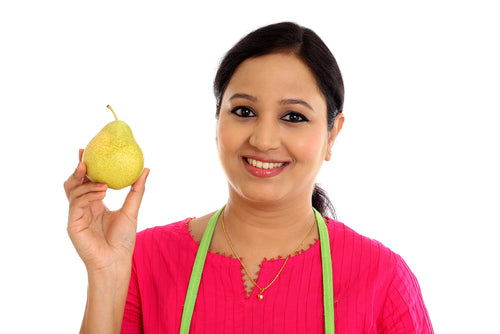 Maybe you call yourself pear shaped, or maybe you prefer triangle-shaped. Either way, you've probably wasted a ridiculous amount of time and energy glaring at your hips in a dressing room mirror. Stop blaming your hips and stop looking for fabulous outfits in all the wrong places. 
Reality check time - 60% of women are pear shaped. Yep. More than half of us. There's nothing wrong with your hips. It's just that some clothes aren't made for your body. Just like some flavors of ice cream aren't your favorite. 
When I talk about dressing for your shape, I don't mean that you should camouflage any body parts you're self-conscious about. I don't mean that you should try to make yourself look like you're hourglass shaped. What I do mean is that you should wear clothes that give your hips and booty enough room to move. I want you to feel physically comfortable in your clothes. 
When I discovered that I'm triangle shaped (instead of "plus size"), it was life changing. No really. I was able to stop hating how I looked in clothes because I stopped buying pieces that didn't fit properly.
Skirts and Dresses
A-Line skirts are your friend. Straight skirts usually aren't. If you want the look of a narrower skirt, try a pencil skirt or a flip skirt because they're wider at the hips than sheath dresses. Buy the size that fits your hips and have the waist taken in a little so that it doesn't gap. Or get a skirt with an elastic waistband so that it fits both your hips and waist.
A true wrap dress (not faux) will fit you well because you can wrap it around your waist as tightly as you need to.
You may have difficulty finding dresses that fit you properly, even when you're trying your best styles. In that case, separates are your friend. If you wear the Maxi Tank Dress, it won't fit properly because you need a larger size on the bottom half. But if you wear a Straight Maxi Skirt and a Sleeveless Shell in the right sizes, you'll have the look of that dress without the size issues.
Yes, I just said that straight skirts aren't made for you. But when the fabric is heavy and drapes well, it will skim past your hips instead of strangling them and making it look like your skirt is too tight. A straight skirt in the finely ribbed stretch knit material we use in Vikki Vi Classics may look and feel fine on your pear-shaped body. I can't make promises for anyone else's straight skirts. 
Pants
I love palazzo pants. They're as comfortable as pajamas and they look stylish as all get out. In palazzo pants, triangle shaped women aren't trying to make their figure look more balanced. They're emphasizing their shape and it can feel empowering. Add a closer fitting top so that you're not swimming in excess fabric.
For less dramatic occasions, pear shaped women can look and feel great in straight leg pants - as long as they're made just so. Again, an elastic waistband can save you a trip to the tailor. You want a heavier fabric with a bit of drape (like the material we use for Vikki Vi Classics) because it will skim over your hips without clinging to your legs in that muffin-top way that makes you glare at the mirror.
When it comes to jeans, be picky. Whiskering and embellishments are attention-grabbing scene stealers. You want people's eyes to be on your lovely face, listening to the clever words coming out of your mouth - and not glancing down at your rhinestone-edged pockets because they're just so shiny. This goes for every body shape - sometimes I just don't know what designers are thinking.
Speaking of pockets, you want big back pockets on your jeans. They're in proportion to your body and they're large enough to actually be used as pockets.
Boot cut pants and wide-leg pants (including jeans) look amazing on triangle-shaped women. Other styles that emphasize your narrow ankles just make your middle look bigger in comparison. No one really cares if you wear jeans that are fitted at the ankle, but other styles will make you wink at your reflection in the mirror.
Tops and Jackets
If a top hits you below the hips (and it's straight), it might cling uncomfortably. You want a top that either stops at your high hip, or has an A-Line shape to it (like a bias-cut tunic or handkerchief hem tunic). Peplums and empire waists are made for you. 
Your jackets should meet the same criteria. Our Swing Cardigan is going to look and feel better on you than a straight Kimono Jacket. (Since the Kimono Jacket is worn open and drapy, it may be great on you. It all depends on your specific proportions.
The same goes for your outerwear. A coat that has a belt or flares out below the waist will make winter just a little more tolerable. You won't feel stuffed into your coat when you're all bundled up.
Necklines
Wide necklines look great on pear shaped women because they mimic the width of our hips. Look for wide v-necks, square necklines, and scoop necklines. Boat necks have the same effect, but I have yet to meet one that doesn't move around, exposing my bra straps. If you like the look of a boat neck, a little fashion tape will keep it in place.
You're the Boss
If you want to ignore my suggestions, go right ahead. I'm not your mother or the fashion police. If you want to rock a Straight Maxi Skirt, go right ahead. Style is supposed to make you happy - not the other way around. My guidelines are just meant to make it more likely that you'll be happy with what you see in the dressing room mirror.
If you need a new outfit in a hurry with no time for returns or exchanges, then listen to your Auntie Jen. If you have time for experimentation, ignore me and you do you.
Check out our other posts about dressing your pear shaped body.
1 Comment