Petite Plus Size Shopping Tips
Posted by Jen Anderson on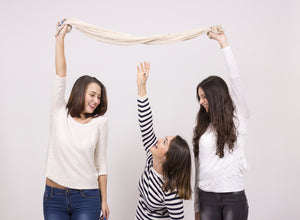 It's a little silly how the people behind most clothing brands seem to think that you can't be petite AND plus size. Even though the average American woman is only 5'3". Worse - some seem to think that we get taller as we get bigger. So if you're 5'2" and wear a 3X, one of their tops is as long as a dress and the neckline is so low that you need to wear a shirt under that shirt.
When you're plus petite, you need to be extra prepared when you shop for clothes. Grab your measuring tape and let's get to it.
Measuring tape? Really?
Don't worry. This time you'll be measuring your clothes instead of yourself. You already know that a "hip length" top is going to end below your hips. So how can you tell which tops, skirts, and dresses are the length you like? Measure your faves.
Lay your favorite clothes on the bed and measure the length. From shoulder to hem for tops and dresses, and from waist to hem for skirts. These clothes are your favorites because they fit you so well. If you have a dress that you like, but you'd love it if it were only an inch or two shorter, note that too.
Put all these measurements into a note on your phone so you always have the information handy. Online retailers should list measurements of their clothing, and if they don't check with customer service.
Why Does Length Matter?
You've been told by "experts" that if your hem isn't in the right spot, it'll make you look shorter. You have better things to care about than how short your skirt is making you look. So you can ignore these experts and not worry about length unless you're tripping over your hem.
I'm right there with you. But when your clothes are tailored to accommodate your curves, they're made with the expectation that your curves will be at a certain height. So if you're pear shaped, you need side vents on longer tops so that they're not too tight. But what if those side vents were too low to do you any good?
You didn't take your almost favorite dress to be shortened, so we all know that you're not going to have a shirt's side vents lengthened. Better to know what length to look for in the first place.
But Seriously, Find a Good Tailor
With tailored clothing, you can't just get garments shortened and expect them to fit properly. But that's not the case with more relaxed-fitting clothing. Vikki Vi Pull On Pants, for example are the same in petite, regular, and tall sizes - except for the length of course. So you actually can get them shortened and they'll fit you perfectly. A lot if Vikki Vi Classics are the same.
Know When to Go Long
A duster-length jacket is stunning and dramatic. Before you dismiss a top layer as too long, consider if it will work as a duster on you. Our Long Kimono Jacket is duster-length on petite women. Long swingy tunics can work well - they're designed to be dramatically long, so it doesn't matter if it's more dramatically long on you than on others.
Know When to Say No
Our Pull On Pants and Palazzo pants (and similar styles) aren't tailored to follow the shape of your leg, so you can have them shortened if they're too long for you. But some pants (jeans, chinos, etc.) are shaped like you are - which means that if they're not designed for your petite plus frame, they won't fit correctly or comfortably even if you have a tailor hack off a few inches.
Don't Settle
Good Enough isn't good enough. When you have a closet of versatile clothing, you won't have to settle for something that's the wrong length for you just because you have an event coming up and you've been shopping for an hour and you just want it to be over already. Having a few well-made pieces can make a big difference.