More Style Tips for Plus Size Inverted Triangle Shaped Women
Posted by Jen Anderson on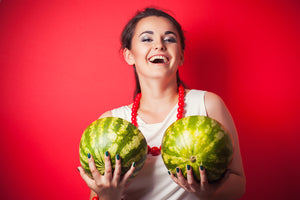 Not all inverted triangle shaped bodies are built the same. If you have an inverted triangle shaped body, you either have broad, warrior princess shoulders, or a big chest. Most style advice focuses on the shoulder gals. But what about those of us whose chests are constantly trying to escape our shirts? Let's talk about which clothes are good for you if you have ample ba-zooms.
We Gotta Talk About Bras
Your girls need support or your back and neck will be unhappy. Larger bras (both in cup and band size) aren't the prettiest things because they have to focus on structural engineering. But we've come a long way in the past few decades. Larger bras no longer look like medical equipment. (Who ever thought Ace bandage beige was attractive?)

If you live near a shop that specializes in bras, pay them a visit. The friendly sales ladies will help you find the perfect bras. If you have to go it alone, the internet is your friend. Sites like Adore Me and Bare Necessities carry larger bras - just google your bra size and see what comes up.

For relaxing, Torrid sells plus size bralettes (supportive cropped tanks) that follow the latest lingerie trends. I only wear mine around the house because I prefer more support when I go out. Or wear it over a strapless bra for double support.

Speaking of which, you may want to wear two sports bras at once for maximum support.
My Eyes Are Up Here, Buddy

A scoop neckline that shows absolutely no cleavage on another woman will be a wardrobe malfunction waiting to happen on you. You may even have been accused of dressing too sexy or vulgar at the office - which is infuriating and so many kinds of discriminatory that I'm not going to tell you to avoid scoop necklines in the office.

Other people's inability to stop staring at your chest is not your problem. If that Orthodox Jewish pharmacist can help me select the right rash cream without looking at me and my low cut top, then Chuck in Accounting can control himself.

Sure, you could wear a higher round neckline or even a turtleneck. But that can actually draw attention to your chest because you end up with an expanse of fabric. It can also look a little matronly. To avoid this sexy yet dowdy look, go for color blocking. A vest, jacket or cardigan in a different color creates enough visual interest that people's gazes are actually drawn up towards your lovely face.
If you prefer to walk the middle ground, V necklines will let you show a bit of skin without leaving you exposed. 


You Need the Right Fabric
If your top or dress fits you in the shoulders, it will probably have to stretch a bit over your boobs. You want that to happen - otherwise your clothes will be too big in the shoulders and you'll be drowning in excess fabric.
You've probably tried on clothes and hated how they hung on you and you didn't know why. It's the fabric's fault. You want a material that will drape over your chest instead of just hanging there. 
Vikki Vi Classics
are made from a finely ribbed stretch knit fabric that has drape and weight that suits nicely. The jersey we use for the
Print Collection
and
Black Jersey Collection
is much lighter than that, yet has the drape you need.
Your Chest Isn't Too Big
Your breasts are the size that they are. Dress 'em up and treat 'em right - and you'll start liking your clothes a bit more.
Check out our other posts about dressing your inverted triangle shaped body.