How to Make a Plus Size Outfit Something Special
Posted by Jen Anderson on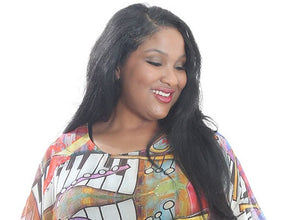 I've gone on and on about how you shouldn't buy clothes that you could only wear on a special occasion. In most instances, it's better to invest in well-made, versatile pieces. But that doesn't mean I think you should show up at parties wearing the same exact outfit you wear to the office. You just need to add some oomph to your day-to-day wardrobe.
No matter what, don't save your fun clothing for catered events. A special outfit can boost your mood and your confidence. There are so many reasons why you might want to make your outfit special. Weeks and weeks of gray winter days are easier to endure if you dress more colorfully than usual. Brunch, date night, and girls' night out all call for a special outfit.
If you hate to shop, that's all the more reason to keep a couple of special pieces on hand. You won't have to think twice when it's time to dress up a little. And if you love to shop, then I'm here to tell you that you really do need that shiny thing.
Shoes!
I don't know about you, but my high heel days are long over. But that doesn't mean I walk around in those beige orthopedic sneakers a physical therapist once tried to convince me to wear (bless their heart). You can find ballet flats, Mary Janes, and other slip on shoes in so many colors and prints. Red! Purple! Animal print! Metallics! They can all add some zazz to your outfits.
Costume Jewelry!
A big necklace, or ring, or bracelet (or what the heck - all 3) takes any outfit out of the mundane. The next time you go to a craft fair, admire some jewelry and then hesitate to buy it because you're not sure where you'd wear it...just imagine me standing there listing all the times you'll have to dress up in the coming weeks and months. Because those pieces of jewelry will bring the fancy to any outfit. 
Prints!
Some prints are subdued, everyday affairs. If you're usually print-averse, then these are your party clothes. If you're more comfortable with wearing prints, you can go brighter and more exuberant when it's time to be dressy. A print top, jacket, or shell can kick your outfit up a notch. 
Statement Pieces!
When you want to make an outfit truly special, a great top layer can go a long way with very little effort. There's a good reason why our models wear all black under sheer toppers, kimono dusters, and sparkly swing cardigans. It's because those jackets are all the fabulous an outfit needs. You can wear them over any complimentary solids. In most cases, prints would just visually fight with the jacket. 
Your Mileage May Vary
Maybe you're like me and wear sequins on a random Tuesday. Or maybe your style is a bit more subdued. Your idea of fancy is specific to you. Your special touch could be as simple as a solid kimono jacket or duster. Maybe prints are your something extra. If you've been eyeballing a flowing kimono robe, that may be your party go-to. Special doesn't mean going way outside of your comfort zone. But you should think about pushing your limits just for the fun of it.
1 Comment