All About Plus Size Tunics
Posted by Jen Anderson on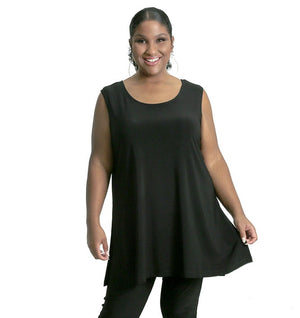 You've probably noticed that our Classic Collections include both Tops and Tunics that look not that different from each other. And then we have longer tunics that are clearly longer than tops. There are several styles of top that can be called tunics, and some of them may not be what you picture when you think about tunics. As one does. So let's talk tunics - the different styles, which ones are for you, and what to look for.
It's all about length.
The one thing common to all tunics is that they're longer than other shirts. The key is figuring out which length is most comfortable on your body. Once you figure out which length is your favorite, make a note of it so you can check it against the length listed on the product page. 
Side note: Vikki Vi Classics have the length in the product description down in the bullet list. The other brands we carry may not have a length listed, but you can contact us and we can measure the actual garment for you. 
The Little-Bit-Longer Tunic
These are the tunics that look just like a regular-length top, but they're 2 inches longer. For example, our Sleeveless Tank is 28" long, and the Sleeveless Tunic is 30" long. Our 3/4 Sleeve Top is 28" long, and our 3/4 Sleeve Tunic and Short Sleeve Tunic are 30" long. 
This type of tunic is for you if you're long-waisted, tall, or find that shorter tops pull up over your middle when you move. 
Get Out That Measuring Tape
Grab your favorite and least favorite tops and lay them out on the bed. Measure the length from the back of the neck to the hem. This may tell you if you need to stick with Tops or Tunics.
A-Line Tunics
These tunics are wider around your hips than higher up. I love these because they're great for my apple-pear shaped body. They give you more room only where you need it, so that you're not smothered in excess fabric above the waist. This includes our new 33" Jersey Maxi Tunic Tank, which may become your go-to shell if our Sleeveless Tank and Sleeveless Tunic don't really work for you - or if you just want a change since a-line styles work on all shapes.
Your choice between those 3 styles is a matter of fitting your body well. Poor fit has ruined more outfits than sticky toddlers. The next tunic styles I'll be talking about work on all body shapes, and are all about style. 
Shark Bite Tunics &Handkerchief Hem Tunics
These tunics have an a-line shape, and are longer at the hips than in the middle. As far as fit goes, they're the same as A-Line Tunics, but when it comes to style, these stand out on their own. Handkerchief Tunics have more fabric than Shark Bite Tunics. This gives the Handkerchief Tunics more movement than the Shark Bites.
Bias Cut Tunics
Bias-cut just means that the pattern was laid diagonally on the fabric instead of straight up and down. Garments that cut on the bias are more drapey than clothes that aren't. As far as swinginess and volume are concerned, Bias-Cut Tunics are between Shark Bites and Handkerchiefs. 
The Choice Is Yours
Some tunics will be your favorites, and some not so much. Part of the equation is fit, and the other part is personal taste. I'm sure that somewhere on the internet, there's a heated debate going on about Shark Bites vs. Handkerchiefs. But we don't need one tunic to rule them all. The main goal in picking your faves is to make clothes shopping easier and more fun.