All About Classic Plus Size Basics
Posted by Jen Anderson on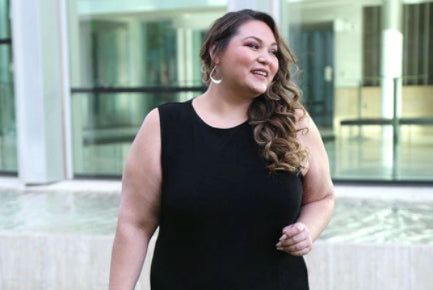 We sometimes talk about the Hero Pieces in our wardrobe - the stunning print, eye-catching art top, that jacket that you just had to have. They're a bit more exciting than that little black dress. What we tend to forget is that without a good collection of basics on hand, those Hero Pieces would never leave the closet because you wouldn't be able to create an entire outfit including them.
Such is the genius of the Little Black Dress. And pants. And shell. And top. You get the idea. Trends come and go, but your basics are always ready to stand on their own or mix with your bolder clothing.
Let's Mix and Match
Of course, the basics aren't limited to basic black. Any neutral can be a basic. So can most solid colors. A basic garment is anything that you can mix and match. You can wear nothing but well-made basics and look amazing. 
As far as specific styles are concerned, I'm thinking dresses like our Maxi Tank Dress, Jewel Neckline Maxi Dress, and A-Line Maxi Dress. Also your favorite pants - Pull On, Slim Leg, Wide Leg. And we can't forget Shells, Short-Sleeve Tunics, and 3/4 Sleeve Tops. Plus a Kimono Jacket or Swing Cardigan to pull it all together.
It's obvious that you would wear a solid colored dress with an eye-catching jacket. But let's say you have a dress in a bold print. You could pair it with a matching jacket, or you could reach for a jacket in a coordinating solid like black or tan. If you have print pants and a matching print jacket, you can add a solid shell to give the print something to stand out against. Or flip that and wear a print shell with solid pants and jacket.
How Are Your Basics?
Take a mental look through your closet. Or physically go there if you're on mobile - I'm not the boss of you. Think about your non-basics - that print jacket, that really cute top, that print skirt. Can you build an outfit around each of those pieces with the clothes you already own?
If the answer is yes, I envy your organization skills. You have truly mastered the basics. If the answer is no, you have a little shopping to do.
Shopping for basic pieces is actually pretty easy and stress-free if you know where to look. (I'm talking about Plus by Design. You get that, right? I'm not being too subtle?) We've all exhausted ourselves trying to find a pair of jeans without rhinestones on the rear end, or a shell that doesn't have cutesy trim at the neckline, or a tee shirt without words right across the bosom. 
That's not how it goes here, though. Sure, we have lots of exciting prints - but we also have the well-made basics you want to wear with those prints. 
You've probably heard the advice - if you're thinking of buying a garment and it doesn't go with anything that's already in your closet, don't buy it. That sounds like a really boring way to live. How are we ever going to expand our comfort zones that way? Much better advice is to buy a coordinating basic piece at the same time.
If you're a frequent visitor to our New Arrivals, you've probably noticed that our latest prints often coordinate with our latest solid colors. It couldn't be easier to create an outfit that way.
Basic Isn't Bad
In fact, I'd say that basics are the unsung heroes of our wardrobes. Having plenty of basic pieces in the closet makes putting together outfits stress-free.