All About Plus Size Loungewear
Posted by Jen Anderson on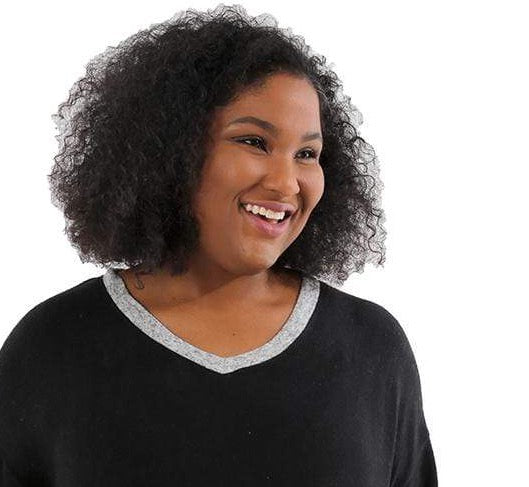 You probably already know that Vikki Vi classics are as comfy as pajamas even though they're also office-appropriate. Yet you probably don't want to wear your Vikki Vi Classics to bed. And sometimes you want to curl up on the couch wearing clothes that were specifically made for relaxing. But you don't want to wear something sloppy and falling apart. You can't rest easy if you're uncomfortable about how you look. 
Which is why we have some lovely loungewear, and I want to make sure that you know about them because....just wow.
Ralmtex Sleep Kaftans
I have one of these, and I just...wearing it is like being caressed by the wings of angels. This fabric is so soft that words fail me. But it's not just soft. This material is made of science.
Well, science and Peruvian Pima Cotton, and Spandex. The science bit is a high-tech fiber called Ralmtex and it makes you feel good in several ways. First up is the softness, of course. Secondly, it absorbs the heat and energy your body generates and returns it to you. It helps you regulate your body temperature so that you stay cool - but not too cool. It increases blood flow and blood oxygen levels, all while flowing around your body elegantly.
Ralmtex increases blood flow and blood oxygen levels, which helps muscles and joints to combat the stiffness, soreness and edema caused by aging, injury and arthritis. 
It's the sort of fabric used in clothes for high-performance athletes - delivered in a decidedly non-sporty style. 
I had a daytime hot flash while wearing my Ralmtex kaftan and I didn't feel disgusting. And my night sweats didn't wake me up. This stuff is amazing. 
You've noticed that we're calling these kaftans with a K to distinguish them from our usual caftans with a C. Our caftans are luxurious, but our kaftans are luxurious at a whole new level. 
Speaking of Caftans
Our jersey knit caftans are nothing to sneeze at. Caftans have come back into style in a big way. And these babies are nothing if not fabulous. The fabric is as soft as buttah, and there's a print for everyone to fall in love with. 
One Size Fits All
Both our caftans and kaftans come in one size, but how they fit depends on you. I'm 5'2" and wear a 2X, and our caftans aren't too long on me. 
La Cera Loungewear
If you're not a kaftan kinda gal (or a caftan kinda gal), we have a variety of loungewear styles from La Cera. We have pants, shorts, tunics, tops, and even a shift-style gown. The sizing of La Cera is the same as Vikki Vi Classics, and of course the quality is up to our usual high standards. 
Sweet Dreams
It's far too easy to start thinking that loungewear and sleepwear aren't that important. But they can make a huge difference. Wearing something uncomfortable makes it hard to let go and relax. Besides, you're worth a little luxury.