How To Be A Plus Size Style Chameleon
Posted by Jen Anderson on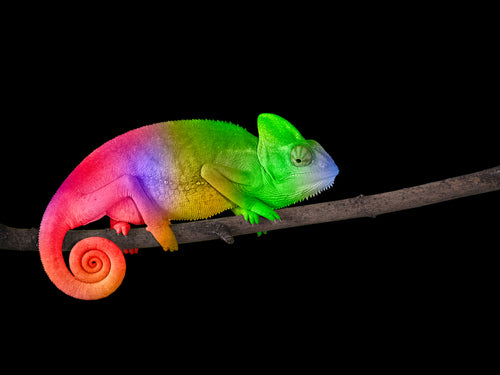 It can be empowering (and fun) to develop a signature style. But it can also be fun to adopt different styles from time to time. We're complicated beings, so why restrict ourselves to only one look?
Sometimes it's about being appropriate.
Years ago, I visited a friend in Tampa, Florida. She insisted that my NYC clothes weren't beachy enough and took me shopping. Annoying? Kinda. But when we headed out to a beachside bar that evening I was glad not to look as out of place as Marisa Tomei in My Cousin Vinny.
We change up our look to fit in all the time. We go to concerts dressed like Rocker Chicks or Fancy Rich Ladies depending on whether we're seeing a heavy metal band or the symphony. You might throw on a sports jersey when you head out to the ballpark. You wear your most serious outfit to go to court.
But we can also switch up our style to stand out.
At art museums, I like my art appreciation with a side of people watching. Among the sea of comfortable clothing and supportive shoes there's usually an older woman wearing an elaborate necklace that's a work of art in its own right. Or she's in a stunning statement jacket. Or wearing glasses so quirky that it takes my breath away.
I wonder if these women dress this way all the time. I certainly don't have the courage to do it. But I can give it a try in certain situations - a party, dining out, or an art gallery.
You may already be a style chameleon.
If you really get away from it all on vacation, you probably change up your look without giving it much thought. When you head out to the lake house, cruise ship, or international airport you don't pack your everyday outfits. You leave your going-to-the-office shoes and handbag home. But it may not occur to you to be a style chameleon at home.
Who do you want to be?
Or maybe I should ask whose style you want to borrow. You may have some pieces in your closet that you don't wear as often as you'd like. You might have the urge to buy cowboy boots every now and then but never do because you're not sure where you'd wear them. Do you keep buying hats that you're too chicken to wear? This is your inner style chameleon trying to break free.
So how do we get up the nerve?
First up, you don't look ridiculous in that jacket. You may look different than usual, but as long as it fits you properly you look marvelous. Start with baby steps. You're not going to mosey into brunch wearing cowboy boots, a cowboy hat, and a fringed jacket if that's not your usual look. But just one of those things would make your outfit fabulous. 
Don't forget the foundation.
Being a style chameleon is a lot easier (and more affordable) if you build your looks around versatile, classic pieces. A basic piece such as the Maxi Tank Dress can ground your outfits so that they don't feel too extreme. A well-made Little Black Dress (which doesn't have to be little, or black, or a dress, but you know what I mean) works with whatever style you're in the mood for.
2 Comments