I Love Vikki Vi - A Message from our CEO
Posted by Danielle Malconian on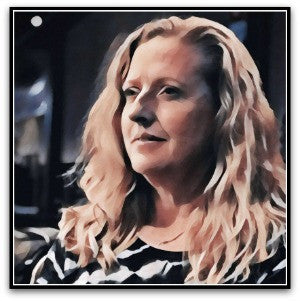 Over the 25 years that I've had the pleasure of selling Vikki Vi Clothing, I have spoken to countless women about their love of Vikki Vi.  There is magic around this product.  Whether it's in the fabric, the fit, or the way it makes you feel - Vikki Vi has a massive following.  I can't tell you the many conversations I've had with women who tell me they own over 100 pieces of Vikki Vi and still love and wear each one.  I love having these conversations with my customers because Vikki Vi has brought magic to my life as well.  
It all started back in the 90's when Nordstrom created the Encore department.  I was a women's clothing manager and had the opportunity to take on the responsibility of Encore.  Soon after we received our first collection in black, the craze began.  The wonder and excitement created around this special product was amazing.  I communicated to the buyers how much the customers loved this product and encouraged them to carry it all the time.  The love affair had begun and is still going strong today.  
I had a vision way back then that Vikki Vi would be an important part of my life.  I couldn't imagine how at that time, but I just knew.  When my second child Juliet was born in 2001, I felt that I couldn't go back to the corporate world to work for Nordstrom again.  I took the opportunity with the dawning of ECommerce to start a small website called Plus by Design.  I started my business with $5000 in inventory in six colors of slinky that I housed in our garage.  I worked from home and was able to care for my new baby.  I did everything in the beginning from taking customer calls on my cell phone to chasing the UPS guy around town every afternoon.  The growth of the business was immediate.  
In 2007, we were lucky enough to acquire the Vikki Vi label.  Today we are supplying Vikki Vi to Nordstrom online with Black Classics and Plus by Design is still growing.
I am always so grateful to the amazing support of all my Vikki Vi fans.  The love you show toward this amazing product has kept it going through many ups and downs.  I also have an amazing staff.  Allegra is our buyer/photographer/model and has been with us for over 10 years.  Leslie handles customer service and logistics.   Lydia is our beautiful model and the face of Vikki Vi for many years.  Our newest model is Danielle Line.   Make-up lovingly and beautifully done by Melanie Cristescu.  Our product is made in New York City with Roger handling the manufacturing and Burt supplying our high quality slinky fabric.  Our fabulous blogger is the talented Jen Anderson.  I am so blessed to work with these outstanding individuals and own this amazing company.  
Well, that's my love story.  Thanks for letting me share it with you.  I would just love it if you would tell your own Vikki Vi story.  Comments are open and we look so forward to hearing from you!  
All my best,
Danielle Z. Malconian
10 Comments