What To Do When Your Plus Size Neckline Is Too Wide
Posted by Jen Anderson on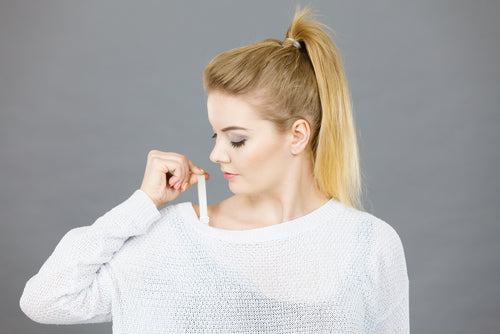 A while ago, a friend asked me what to do in this situation and all I could think was, "don't buy clothes with too wide necklines!" Big talk from a woman whose bra straps peek out from her neckline on occasion. Fashionista heal thyself. This is rarely an issue with Vikki Vi, but everyone's body is different so it does happen sometimes. And we know you do shop elsewhere on occasion. We're not the jealous type.
We've heard that our Deep Scoop Neck Top is sometimes too wide for some people. I've had this issue myself with one of my jersey t-shirt style dresses, but not the other because the world is a weird, mysterious place. Other brands may deliberately made a neckline wide as a stylistic choice and some are just really bad at sizing up patterns.

OK, wide necklines happen. What can we do about it?

Wear a Dickey Collar

I was kid when I first saw a picture of a dickey, and I thought it was stupid. And on its own, a dickey collar does look kinda weird. But they're really useful. My high school had a weirdly arbitrary dress code that required boys to wear collared shirts, even under crew neck sweaters. One guy cut up one of his polo shirts to make a dickey and was hailed as a genius.
A dickey makes it look like you're wearing multiple layers, but it lets you avoid the added bulk of a second top. (A while back, shweaters were a trend - v neck sweaters with sewn in dickeys.) Also called detachable collars, they can have a button-down shirt style collar, a turtleneck, a crewneck, or a pussy bow. You can get them from several online retailers at a variety of price points. If you can't find the dickey of your dreams, several Etsy shops make them and you may be able to find someone willing to take a custom order.

Bra Strap Holders

These little thingies attach your bra straps to your top, keeping everything in place. You can sew them in yourself with snaps and bias tape, but our signature Slinky fabric is a little tricky to work with. If you want to go this route, you'll get the best results if you have it done by a tailor or seamstress who is experienced with Slinky. You can also buy bra strap tamers/bra strap concealers or double-sided fashion tape for a no sew solution.
Layers

A jacket, cardigan, or vest can cover the sides of a too-wide neckline, so that everything that should remain covered, does remain covered. That extra layer is the finishing touch to your outfit that can add polish and personality. Concealment is just an added benefit.

Scarves can also serve this function, depending on how you tie them.

There's no shame in making do

We live in an imperfect world. The only way to guarantee you never have another too-wide neckline is to have all your clothes custom made for the rest of your life. You're going to find some pieces of clothing that are perfect except for that one problem. With these solutions, you can wear a top or dress with a too-wide neckline without looking like you're settling for blah clothes.
2 Comments