The Plus Size Guide to Dressing Up For the COVID Holidays
Posted by Jen Anderson on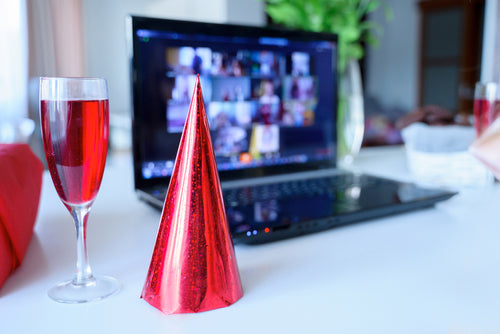 There's no place like home for the holidays, which is exactly where I'll be. Like many of you this year, I'll be celebrating the holidays in my very own living room surrounded only by people I live with. Instead of squeezing around a dining room table that became too small 10 cousins ago, I'll be video chatting on and off all day. We've all learned how to dress for work Zooms, FaceTimes, and Skypes. But the holidays are different.
And those of us who are able to gather with their best and dearest in person may be out of practice with the whole dressing up thing, so thinking about what to wear is a good idea.
We need to reach for joy wherever we can this year. We haven't been getting dressed up for parties, religious services, or big family dinners. All those events add joy to our lives. Video chatting with friends and family has become so routine that we've all become less concerned with how we look. But dressing up for our holiday gatherings and chats will turn them into special occasions.
Go for the full outfit.
Unlike work video meetings, you may need to get up during your holiday chats. Maybe you'll need to refill your drink, or reach for something you simply have to show off. Besides, holidays are chaotic, so your holiday chats may not be precisely scheduled. That means you won't necessarily be in place, perfectly arranged so that no one can see your pajama pants and slippers.
Dressing well only above the belt doesn't really make the day feel special. I'm not suggesting you reach for the shapewear, but at this point wearing an entire coordinated outfit is a nice change of pace.
But still focus on the top.
Your head and shoulders will be the most visible part of your body. A necklace or scarf will elevate your look even more than usual. Wear a hat or fabulous earrings if you want to - this isn't a job interview, so have some fun. If you're into holiday sweaters with a giant reindeer head or menorah in the middle of your chest (no judgment), remember that you'll need to stand up to show it off to the family.
At in person gatherings, people still pay more attention to your top half - it's all they can see when you're all sitting at a table and the rest of the time, they're looking at your lovely face.
Since you're staying inside and unmasked, now is the time to reach for your beloved lipstick. Glam it up as much as you'd like.
Don't forget the usual tech tips.
Your loved ones want to see you, so avoid backlighting or harsh overhead lights. Be aware of where your webcam is. On mobile devices, the camera is near the top of the phone or tablet, not the middle - I've had way too many conversations with people's eyebrows.
Keep all that in mind during family photo time - if you're going to the trouble of herding the entire clan for a picture, it might as well be well lit.
I like to keep a pitcher of water nearby during video chats. All that talking is thirsty work. You may even want to have some snacks handy - holiday video chats are a marathon, not a sprint.
Roll with it.
I know it's a bummer to skip or scale back your usual holiday traditions. But we do tend to follow traditions without really thinking about it. It's been said that tradition is peer pressure from dead people. We celebrate the holidays exactly the same way every year because that's how it's done. Enjoyment often takes a back seat to adherence to proper procedure. 
Do whatever you can to bring merriment and brightness into your life this month. Fry up some latkes or doughnuts, bake cookies, build a gingerbread house - do it for yourself this year instead of for the sake of tradition.
2 Comments