Take All The Space You Need
Posted by Jen Anderson on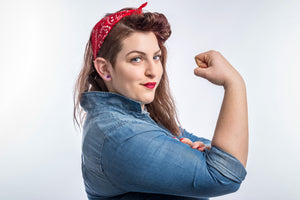 Public transportation has a way of bringing out the worst in people. There's never enough room, and we've been taught to blame each other instead of the people who designed these too-small planes, trains, and buses. Which is why we plus size women may think twice about traveling that way - worrying about people being awful to you can be the worst part of travel.
On the one hand, hostility towards fat people is on the rise now that we're making some headway on getting some respect and nice clothes. On the other hand, this is nothing new and social media is just making it easier for us to find out about these incidents.
This happens all the time, so let's discuss.
It's Not Our Fault That Public Transportation is Crowded
For some reason, this is a radical statement. Airline seats are shrinking so much that I'd rather take the train for 30 hours rather than get on a plane for much less time. I have anxiety and claustrophobia without adding the very real possibility that someone will question my right to exist in public.
Subway cars are crowded and somehow that's my fault too. I once sat down on a train wearing a puffy coat and a skinny woman glared at me even though it was my coat touching her instead of my body. And once I got settled, nothing was in her space. 
Lest you think I've always been this mouthy dame - when I left the subway that day, I burst into tears and had to talk myself out of turning around and going back home instead of going to my friend's place. 
Cost cutting in all forms of public transportation have led to too small seats and overcrowding. Yet people blame the pleasantly plump instead of the suits who keep refusing to give any of us enough room. 
Should We Say Something?
Your own safety is the most important thing in these situations. Telling people off is satisfying, but can also put you in physical danger. You may choose to say something as you're disembarking so you're not making a scene mid-flight and can get away quickly if things turn ugly.
It's hard to stand up for ourselves, but it's important. People think that "fat" means stupid, lazy, ugly, unhealthy, and so on. All it really means is "having a greater than average amount of adipose tissue." Which is why I call myself fat. Because I'm done equating my body type with those other things. And it gives me the opportunity to slip a little education into everyday conversation - because everyone looks at me like I've lost my mind when I use that word.
You're Entitled to Take Up Space
The problem is that not everyone knows that. That's why I like to dress to intimidate, and why I tell you to wear Vikki Vi Classics in difficult situations like this. I'm not talking about "I will beat you up" intimidation. I mean "I am smarter than you and will verbally destroy you if you make that necessary" intimidation. When you look polished and put together, people are much less likely to mess with you.
Maybe your clothes will encourage you to speak up for yourself. Or maybe you'll just let them do the talking. Either way, you'll be fighting the good fight.
5 Comments