How to Banish Chub Rub
Posted by Jen Anderson on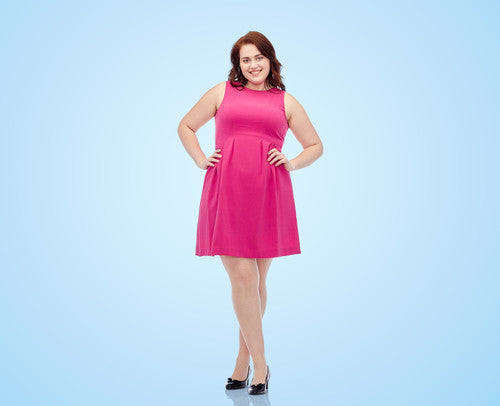 Let's face it - our inner thighs rub together. It may be called Chub Rub, but it's not exclusively a plus size problem. Any woman without wide-set hips (and therefore a thigh gap), is going to have inner thighs that rub against each other. This is no big deal in cold weather when tights protect our thighs under skirts. But when warm weather comes around and we want to go bare-legged -- hoo boy.
I've been an anti-chub rub evangelist ever since I found out what it was. Like many teens, I asked my mom what was up with my poor, red inner thighs. She always told me it was prickly heat (aka heat rash). But that's caused by sweating, while Chub Rub is caused by friction.
Once I found out what was going on down there and how to avoid it, I switched from shorts in the Summer to almost exclusively wearing skirts and dresses. I feel so much cooler, and who doesn't love a skirt swishing around their legs?
Come sit next to your Aunty Jen and learn how to keep your lovely skin happy all Summer long.
Secret Shorts
Just like tights keep our inner thighs from rubbing in cold weather, light lingerie-style shorts can work wonders. But don't wear just any shorts. I used to wear spandex bike shorts under my skirts. And the inner-thigh seams would rub against each other, wearing holes in the fabric. Ugh.

For protection that will last for a few seasons, you need something with no inner thigh seams. There are loads of options that fit the bill. Undersummers Shortlettes are lightweight and come in cute prints as well as solids. Some are even trimmed with lace. Jockey Skimmies work the same way, but only go up to 2X. In Australia, you can get something similar from Sonsee. 

Bandelettes offer a saucier solution. They're bands of lacy fabric that fit around your thighs, protecting them from chafing. They look like the tops of stockings, so they add a little secret vo-de-o-do to your outfits. If your thighs taper from your hips to your knees evenly, then they'll have no problem staying in place. If your thighs suddenly get thinner in one spot (like me), then they won't. Bandelettes also makes lacy shorts, so you can get the look and feel without worrying about them moving around.
Magic Potions
Lubricating your inner thighs reduces friction, saving you from Chub Rub. My favorite is Body Glide, which comes packaged like solid deodorant. That means you can throw it in your bag in case you sweat through the first application. It's the same stuff runners rely on to keep their sneakers from giving them blisters even in long races. If your sandals start to rub, this stuff can be a lifesaver.

You can get similar products in the feminine hygiene section of the drug store. Monistat Chafing Relief Powder Gel and Gold Bond Friction Defence are the most common options.
Enjoy a Comfortable Summer
Knowing how to avoid Chub Rub has been a real game changer for me and I hope it rocks your world just as much as it did mine. If you do get Chub Rub, a little diaper rash cream will help your skin to heal. But that shouldn't be an issue for you anymore. Now go out there and bare your legs.
Shop for Dresses and Skirts now.
1 Comment