Customer Spotlight: Frances Rainbolt
Posted by Jen Anderson on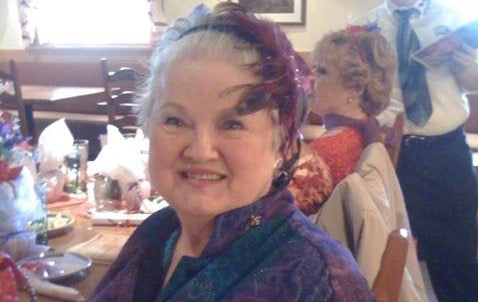 From time to time we'll be turning the spotlight on you, our oh-so fabulous customers. Let us know if you'd like to be featured - don't be shy!
You've seen Frances before. She's Danielle's mom, so her photo has popped up on the site every now and again - always rocking the latest Vikki Vi. Though some women are camera-shy, she's always ready for her close-up.
"I'm a person who always gets dressed in the morning," she says. "I always wear my Vikki Vi. I always have makeup on because I never know who I'm gonna meet or what I'm going to be doing and I just like to be prepared." She loves to be ready for the unexpected. She lives in a retirement community with an active social scene so she never knows who she'll run into. #SquadGoals #RetirementDoneRight #FashionGrandma

Frances first started wearing plus size clothing in her 60s. "Going out there and shopping for plus size clothing is a nightmare." You'd think it would be easy with a daughter in the biz, but this all happened when Danielle was busy with a baby so Frances was on her own. She says that discovering Vikki Vi was "really a life saver because I didn't know what to do."
She loves mixing colors, and having a closet full of Vikki Vi makes it easy. Lately, she's been getting a lot of compliments on her purple and yellow combos. She rarely dresses monochromatically. Her favorite style tip is to take risks with color combinations. Refer to the color wheel for help and imagine the entire Plus by Design team cheering, "do it!"

Not a day goes by without Frances getting a compliment on her outfit - and if that doesn't get you to take her advice, I don't know what will. People always want to know where she got what she's wearing and our #SeniorSpokesmodel never hesitates to tell them. (We know some of you don't want to let your friends in on their secret, but you'll still be the fashionable one - just think of all the colors you have and they never will.)
Her other tip is one that quite a few loyal customers already follow: "Stock up on Vikki Vi because you're going to always have it and you're going to always need it." Life really is so much easier when you don't have a full closet and nothing to wear.

Her favorite pieces are the Pull On Pants and Crop Pants, and lately she's been loving the caftans. Her all-time fave is a Citron jacket that she picked up at - you guessed it - Plus By Design.

It's been said that every woman has an obsession: jewelry, cosmetics, purses, or shoes. Frances is on Team Costume Jewelry. She thinks that the real stuff is nice, but you can really make costume jewelry part of your outfit's color combinations. "Diamonds and emeralds and rubies are fine," but they just don't have the visual impact of larger, inexpensive pieces.
Fun fact: Frances has studied astrology for 50 years
4 Comments