Behind the Scenes with Jen Anderson
Posted by Jen Anderson on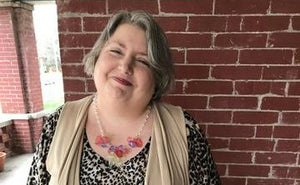 It's my turn. I let the team turn the tables on me and send some questions. Fasten your seatbelts and keep your hands inside the ride at all times.
Where did you grow up?
Brooklyn, NY. I have one younger brother, but I'm the 5th oldest of 17 grandkids. When I was little, we lived in a two-family house with an aunt, uncle, and cousins and it was all kinds of fun.
Your favorite hobbies?

I've been knitting for 16 years. I recently started making collages. I've been filling an art journal/junk journal/whatever with small collages and posting the results to Instagram. (I'm @JenAndersonNYC if you want to have a look.)

How did you become a blogger?

In 2007, all the cool kids were doing it, so I started a personal/knitting blog. A year or so later, I decided to change careers from technology to writing (which is what I wanted to do in the first place). I tried a few different kinds of writing. Blogging and online copywriting are an ideal match for my writing style, so here we are.
What brought you to size acceptance and advocating for larger women/people?
I'd dabbled with size acceptance over the years, not knowing what that was. But I kept getting pulled back into diet culture. The last straw snuck up on me. I was in my mid-30s, newlywed and still waiting to lose the weight so that my life could begin.

One day my (skinny) chiropractor asked what was bothering me. I was beating myself up over what I'd eaten that week. I don't remember exactly what I said, but I'll never forget his words: "Why don't you just stop?"
It had never occurred to me that I could just throw in the towel. But dieting was affecting my mental health which was affecting my physical health. That evening I was reading a blog friend's post about performing a sort of a spiritual spring cleaning. I commented that I was giving up dieting possibly maybe. She replied with a link to Shapely Prose, a fat acceptance blog that literally changed my life. Reading that blog deprogrammed me. It's not being updated anymore, but it's still there so go visit.
I also recommend Lessons From the Fat-o-sphere by Kate Harding (of Shapely Prose) and Marianne Kirby (aka The Rotund).

What advice can you give women of size to stay positive amongst all the nay-sayers?

Educate yourself. It's easy to be confident when you know that your critics don't know what they're talking about. Also, facts tend to scare people or at least bore them into going away. My fave: In the Minnesota Starvation Experiment, during WWII conscientious objectors volunteered to starve themselves to help doctors learn how to best feed under-fed Europeans. The men in the study all became cranky, depressed, and food obsessed - WHILE EATING MORE CALORIES than any modern weight loss plan allows.
OK, let's lighten things up.

What is your favorite Vikki Vi style?

This is easy - the T-Shirt Style Dress. It's a lot like my favorite dress of all time - a french blue cotton knit that made me feel like a million bucks way back in the 90s when the world was young and so was I. My current fave is a Vikki Vi T-Shirt Dress in leopard print jersey. Apparently, I'm also fond of that fringe vest.

What writing work are you most proud of to date?

This is a hard one. The sentence I'm most smug about it "It's OK to fall in love with these pants." which I wrote about Vikki Vi Pull On Pants. I was really pleased at how my How to Help Your Kids and Grandkids Love Themselves post here was received. The one piece I will never stop bragging about is the personal essay I sold to The New York Times. (Everybody's gotta start somewhere.)
What is your dream for your future?

I'm writing a novel that features a plus size heroine and as long as I'm dreaming, let's really go for it and hope for the best seller list. But even bestselling authors need a side gig these days, so I hope to keep writing about pretty clothes.
Fun facts:
I was a volunteer EMT in my 20s, and once performed CPR in the center lane of a 3 lane highway.
Unlike the stereotypical freelancer, I get dressed up to work. I figure that if it doesn't matter what I'm wearing, I can go ahead and throw on a pretty dress.
I'm a science fiction/pop culture geek. We decorate with action figures instead of knick knacks. Some people may call it childish, but I call it earthquake-proof.
8 Comments