Behind the Scenes at a Photoshoot
Posted by Jen Anderson on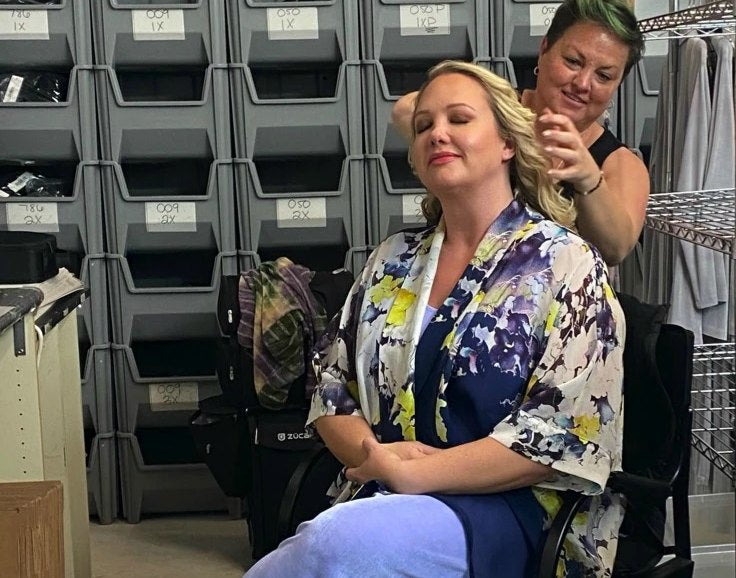 Ever wonder what goes on at a Vikki Vi photoshoot? Well, you're about to find out, Last week, I was able to tag along as the team photographed our new Primrose Pink Classics. Spoiler alert: it was loads of fun.
At Vikki Vi Headquarters in Chatsworth, CA, there is a magical room full of clothes, clothes, and more clothes. Black and Navy as far as the eye can see, of course. But also colors and prints and everything comes in my size! Not that I did any modeling, but it's a great feeling to know that I was in the presence of clothes I could theoretically try on. You know what I mean.
One corner of this room is set up for photos. White floor, white backdrop, even white cloth overhead to diffuse the overhead lights. 
Danielle Line did all the modeling and hoo boy is that hard work. You know how exhausted you get trying on clothes? A photoshoot requires wardrobe change after wardrobe change. But that didn't dim her smile one bit.

(Dirty little secret: Our models all wear high heels for photo shoots because heels bring a little extra swish to your skirt. But they slip them off whenever possible. And who can blame them?)

Allegra was behind the camera, while Leslie and makeup artist Melanie Cristescu (Wondermel makeup) styled the shoot. That means pairing this necklace with that outfit, and rearranging Danielle's clothes, hair, and accessories so they're picture perfect.

(Proud little secret: we don't pin or tape the clothes to make them look a certain way. Vikki Vi Classics are all about the flow and drape. Besides, deceptive product photos are super annoying and not our style.)
And then it was lunch time! The team orders in lunch on photoshoot days, sets up a table and chairs in the front showroom, and eats together. (Everything was delicious. Thanks for asking.)

After lunch, the team packed up a few outfits for an outdoor shoot. Southern California is aggressively scenic, so there are plenty of beautiful natural backdrops. The SoCal sun is also aggressively bright, so we had to seek out the shadowy spots. Never discount the importance of lighting. 

Takeaway Tips

When you visit a professional photo shoot, you quickly learn why your own photos turn out less than perfect. 

Reason #1: Lighting. Bad lighting is everywhere. Restaurants, your cousin Quincy's living room, poolside - they're too bright or too dark or the light is coming from a weird angle. That's because those places aren't lit for photography. 
Reason #2: No Stylist. When the entire gang is posing, there's no one to notice that Suzy's hair is doing a weird thing and Janey's collar isn't laying properly.

Reason #3: Bad Photographer. If you're like me, you have several relatives who act like the paparazzi. They're more interested in catching a candid shot than taking a decent photo. They'll get in the way of a professional photographer to take a picture of the bride using their iPad. 

So what can we do with this information? We can look for well-lit spots, check each other for out-of-place hairs, and hide from Uncle Elias. We can also let go of the expectation that all our snapshots should look like professional photos. We put all this effort into our photo shoots because you need to see the clothes clearly while making buying decisions. Your personal photos exist for fun. You're there to look happy, not glamorous.
Join the We Love Vikki Vi FB group to see more behind the scenes photos.
2 Comments