Behind the Scenes with Allegra
Posted by Jen Anderson on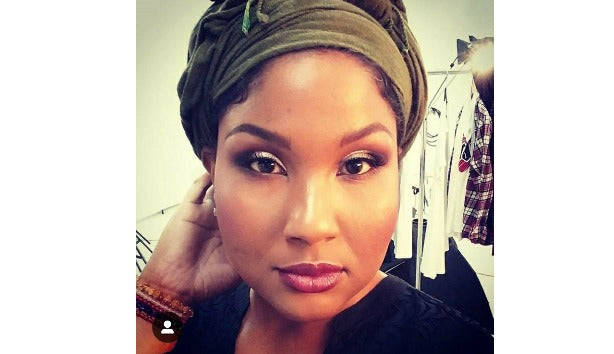 You may already feel like you know Allegra since she's one of our models. But you may not know  everything she does on the other side of the camera. Literally - if she's not in the photo, she's probably the one snapping pictures. "I am such a visual person, so getting to take pictures is like paradise for me," she says. "I've always had a camera. My first camera was a hot pink Vivitar 110 film camera that I guarded with my life as a child." 
Allegra loves photography so much that she has a degree in 2D art with an emphasis in Photography from Cal State Northridge. She uses her artist's eye when doing graphic design. Allegra is now working for Plus by Design as a contractor, but back when she was with us full time, part of her job was deciding which colors and patterns we'll offer and in which styles.
Danielle and Allegra would go on field trips to the fabric district in downtown Los Angeles to shop for prints. Once they selected some prints, they'd create a color story for the season and select solid colors accordingly. Or sometimes they'll start with a solid color inspired by Pantone, magazines, or paint chips. Then they'll pick prints that go with the solids. Allegra says, "in school, color theory was my favorite class. I am a huge fan of patterns, prints and color. I love being able to see a swatch of fabric and imagine what it would look like in a garment. It's really a treat for me."
You may want to follow a similar thought process when adding to your wardrobe - pick prints that go with your solids and vice versa. 
When it comes to selecting styles for each collection, "sometimes the fabric will speak to you and it just lends itself to certain styles. It's truly a magical process in my eyes." 

Allegra's first job in fashion was at Torrid. She says, "Torrid was a revelation for me! They offered on trend clothing that fit my then 2X frame. Needless to say, my paychecks went straight back to the company." She worked for them for an extended holiday season, then left to work at an accounting firm. Looking to get back into fashion, she posted her resume on craigslist "back when it was safe," and Danielle responded.
"That was over 10 years ago. I know what it feels like to be looked over and ignored, to be told that there is nothing in the store to fit my body besides earrings. Working in plus size clothing has given me a way to give women of size the options and choices they deserve."

Allegra's all time favorite piece of clothing is an orange tie dye maxi dress that was colorful, vibrant and always made her feel like a hippie goddess. Her current fave is a denim jacket from TJ Maxx. She says, "it just makes me feel hip." In the winter, Allegra wears jeans but as soon as the weather warms up, it's back to dresses. "I love a dress, it makes me feel super feminine and pretty. If I could get away with wearing a glittery cocktail dress to work every day I would."
Her #1 Style Tip: "Size is just a number, not an indicator of worth. Focus on how the garment fits and makes you feel rather than the number. I've seen people get upset because of having to buy a size up, I've experienced this myself and it messes with your self-esteem. I have told myself that it's just a number and if the garment looks great and feels comfy that it is perfectly sized for me. Try multiple sizes on, but always choose based on your comfort. Also, hiding under a size too large is not a camouflage method. It can sometimes come off as looking messy and disheveled."

Fun Facts: "I have a small makeup and wig obsession. My current favorite makeup brand is ColourPop Cosmetics. I love their inclusive variety of foundations and vibrant color lippie sticks. I'm currently learning how to make custom wigs for fun." She's also into crafts, painting, and cooking (especially veggie lasagna). At work, everyone calls her "Legs" for short. "I'm obsessed with unicorns, glitter and anything that sparkles. I'm also a #catmom. My head is abnormally large for my body #funfact #lollipophead #megamindssister."
5 Comments