ProductContent
Vikki Vi Jersey Navy 3/4 Sleeve Kimono Jacket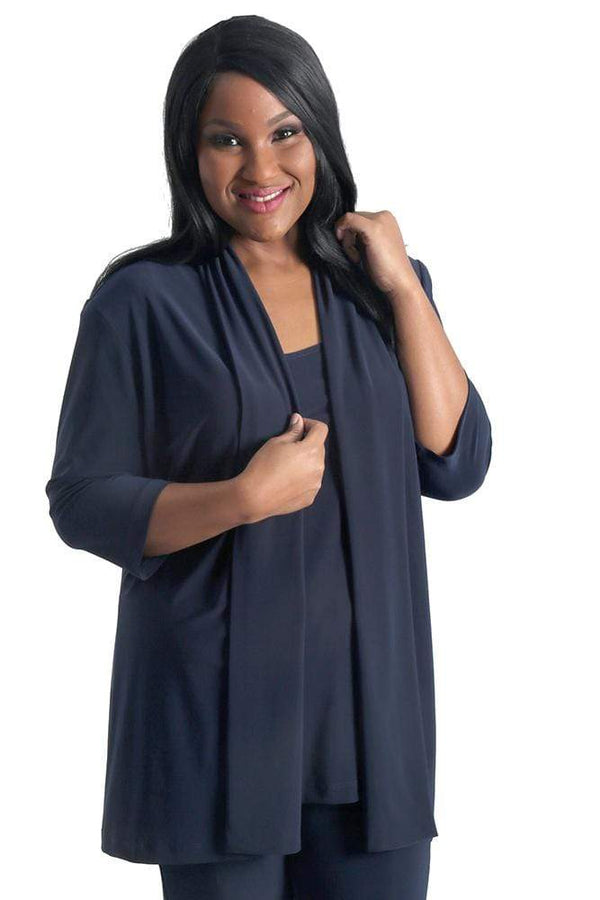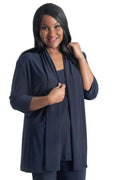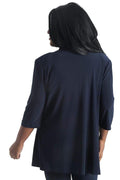 Vikki Vi Jersey Navy 3/4 Sleeve Kimono Jacket
Product Description
Description
Elegant Open Front Jacket
Fold over lapel
Hem Falls Well Below the Hip
3/4 Sleeve
30" Center Back Seam
Available Sizes 0X-4X
95%Poly 5% Spandex
Machine Wash, Dry Flat
Made in the USA
This is minimalism at its best.

The cut is unfussy, and the fabric moves beautifully as you go about your day. This jacket adds a touch of drama to any outfit.

Clean lines let your beauty take center stage.

This jacket can be casual or formal, depending on your mood. The shape is ideal for apple shaped women, but it looks just as lovely on other body shapes.
"This is a perfect piece to dress up any outfit, even jeans. Especially jeans. Love the color selection and the way it drapes on the body. I have a number of jackets and plan to get more. It is also well made and, as they say in the industry, has "a good hand" meaning the fabric is of good quality. Thanks VikkiVi!" – satisfied customer Stella
It moves as gracefully as you do.

Our jersey knit fabric skims over your curves, never clinging, pulling, or bunching. It won't fall apart in the wash, pill, or lose its shape. Yet it feels so silky against your skin that it's absolutely decadent.

It's machine washable for realsies.

So wear this jacket as often as you want. Which will be quite a bit.
Great material, great fit
This is a true navy blue. The material is so comfortable and wearable for long periods of time. It's lighter in weight compared to the other material. Silky smooth.
Hi Spiraltime,
Thanks so much for writing a review. Enjoy!!
Color is right on!
This is the best navy blue I've purchased in years! A real true navy blue. The shoulder pads are an improvement-- I usually cut them out because in the past they were too bulky and not as natural looking (malleable). Not this time. I think the material is a little lighter/supple but PERFECT. Still not sold on 3/4 sleeve as I like the option of "pushing them up" ( more youthful) -- but at least the wrist does not stretch with 3/4 sleeve, I bought 3 tops. I'm impressed with this batch of blues. Looking forward to more classics.
Hi Nancy,
Thanks for writing a review. Enjoy!!
Fantastic jacket!
The material used for this kimono jacket is soft yet holds it's shape. Fits perfectly. This is the ideal product for travel. Folds up nice without wrinkles. Highly recommend!
Hi Rosemary,
Thanks for the review. Enjoy!