ProductContent
Vikki Vi Jersey Black Swing Cardigan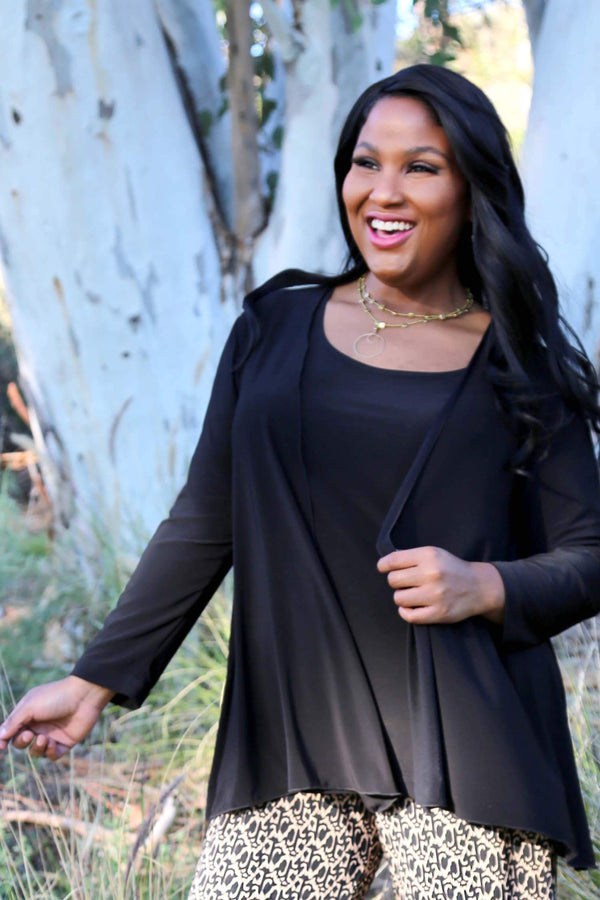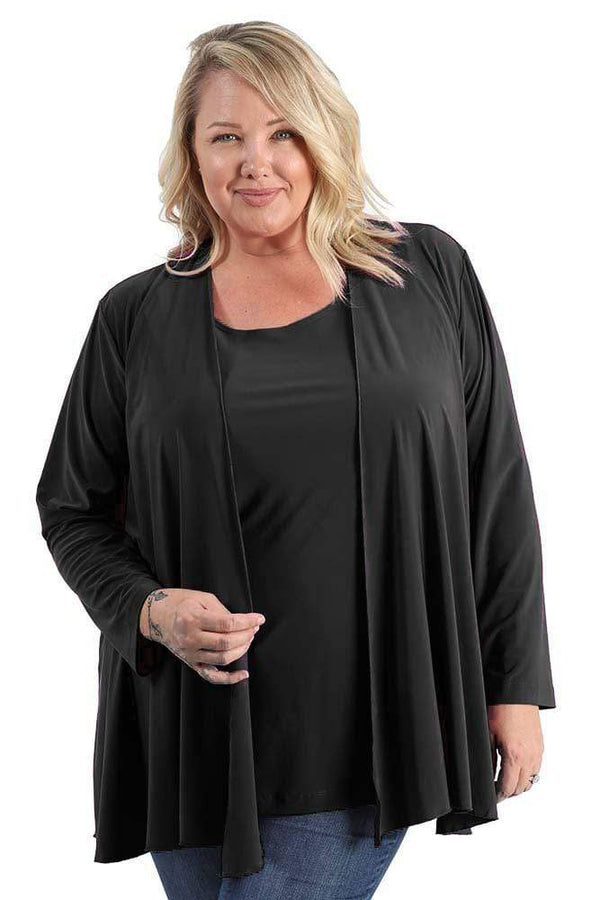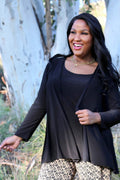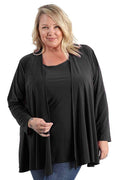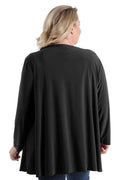 Vikki Vi Jersey Black Swing Cardigan
Product Description
Description
Draped-Front Open Jacket
Lettuce Edge Hem
Cascading Drape Front
Open Jacket
Long Sleeve
30" Back Seam
Matte jersey knit - 95% Polyester 5% Spandex
Machine Wash, Hang Dry
Made in the USA
Out of stock? Scroll up and request email notification when it's back.
It's not your body's fault.

Most women's bodies tend to get a little wider around the middle, yet most cardis aren't made with that in mind. This cardigan is actually shaped like your body.

This isn't just any old cardigan.

The cascading, lettuce-edged fronts provide a feminine touch that's anything but frilly. The result is a cardi that's relaxed yet polished.
"I've just been doing an "inventory" of my wardrobe -- I have a LOT of VikkiVi and a LOT of black jersey. But I KNOW I could always look polished and feel confident and comfortable if these pieces were all I ever had to wear. Fortunately I have Navy Jersey and a lot of Classics in lots of colors as well. So the challenge is WHICH ONE shall I wear? Never WHAT shall I wear! And if I ever don't want to think at all, I just wear VV Black Jersey and my most fun jewelry and shoes." – satisfied customer Ellen
What keeps our Swing Cardigan swinging?

Our secret is a luxurious jersey knit material that has a graceful weight and movement. It won't cling to your curves, or pull, or bunch up.

It's machine washable (yay!)

The fabric keeps its good looks in the wash, so you never have to worry about it starting to look a little tired.
Perfect cardigan
This swing cardigan is perfect for every occasion. I love the way it drapes. Pleases offer it in more colors.
Hi Lynda,
Thanks for writing a review. Be sure to keep an eye out for this cardigan in New Arrivals. Enjoy!!
Hi Debra,
Thanks for writing a review. Enjoy!!
Vikki Vi Jersey Black Swing Cardigan
I have several older versions of this cardigan. This is much thinner material and I was disappointed. Please bring back the heavier version
Hi Molly,
We still carry the fabric you're talking about. This cardigan is made from our jersey knit, which is indeed lighter. The pieces you're looking for won't have 'jersey' in the name, and contain acetate.