ProductContent
Vikki Vi Classic Black Swing Top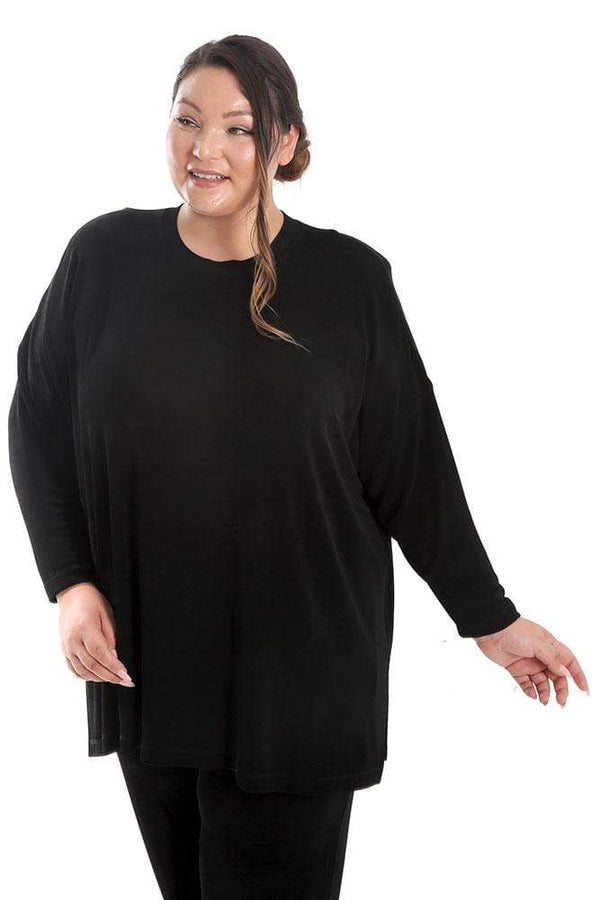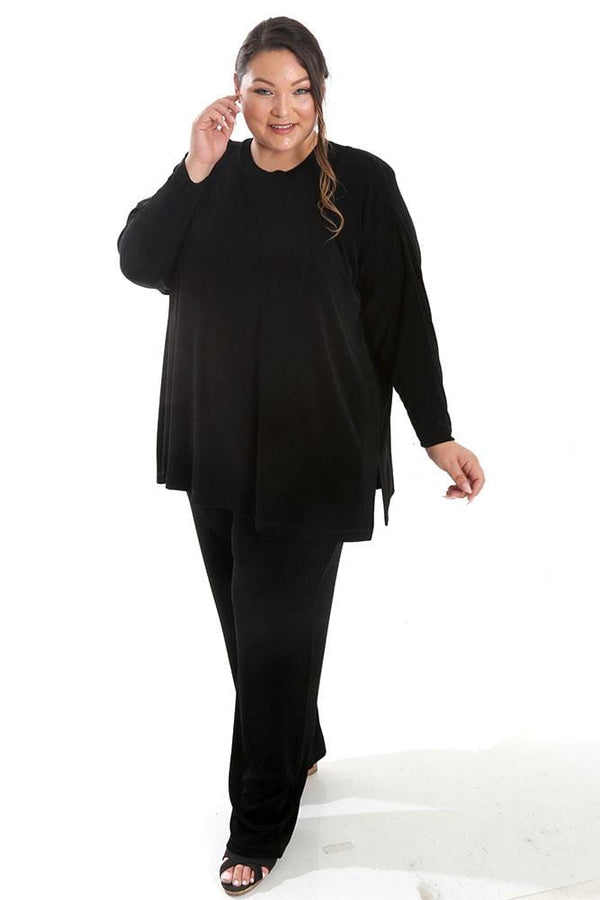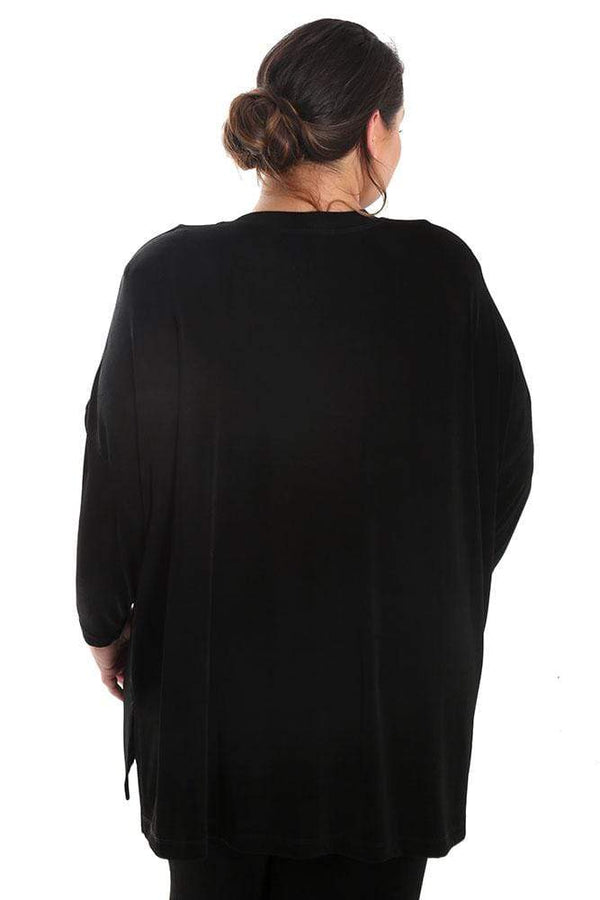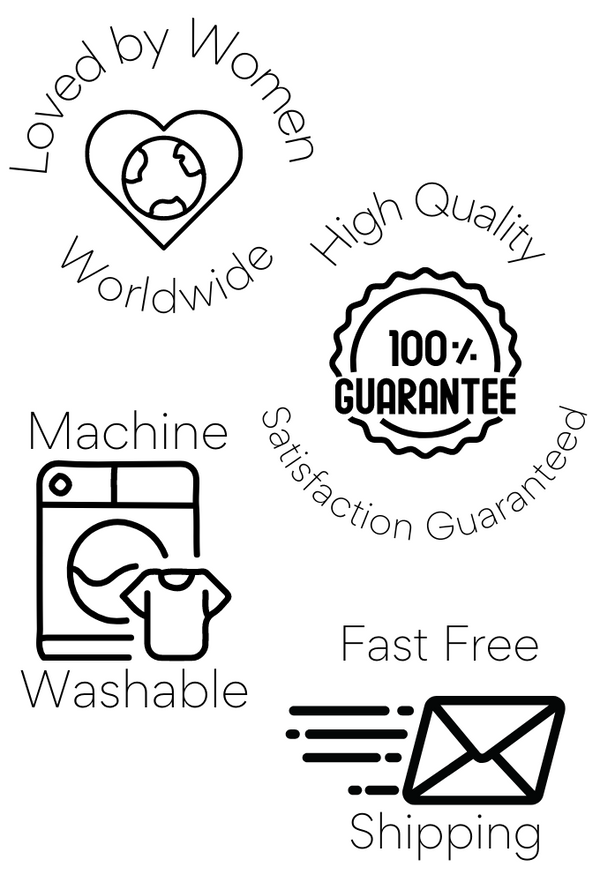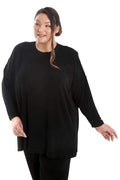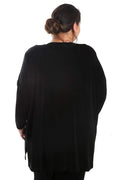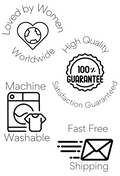 Vikki Vi Classic Black Swing Top
Product Description
Description
Round Neckline

3/4 – long sleeves

32" long – hits below the hip

Fits sizes 2X – 4X

Finely ribbed stretch knit - 94% Acetate/6% Spandex

Machine wash, lay flat to dry

Great for travel – just hang it up and any wrinkles fall out.

Made in the USA
One Size Fits All usually doesn't fit anyone. But this top is the exception.
Whether you're petite or tall, 2X to 4X, it's like a cozy hug. Our signature fabric provides easy sophistication, draping gracefully. It's oh-so-soft but won't pill or fade. With shoulder pads for structure, this top is never shapeless or sloppy. 
"This is a perfect way to still be in my signature black but with a touch of color. 3/4 sleeves are actually full length sleeve for me and I don't have short arms for my height of 5' 7". Longer length is perfect for my trouble spot and does not look like I am wearing a tent....you know what I mean :) I hope there are more versions of this top going forward. I bought them all!" – satisfied customer Emily
Vikki Vi Classics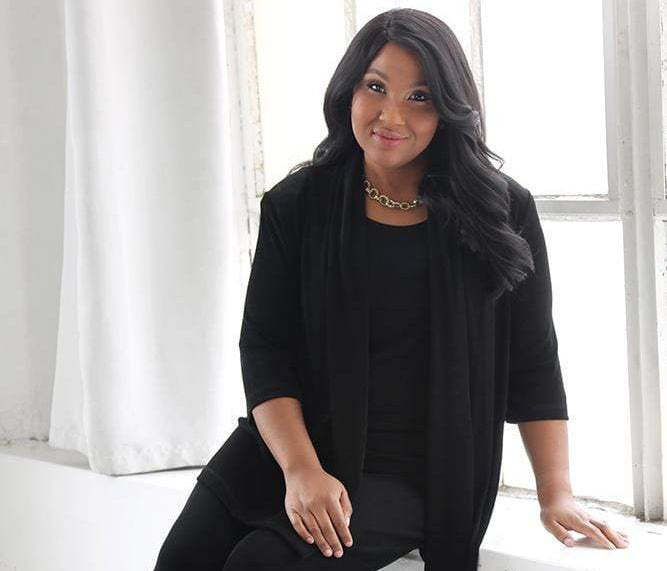 Merlot Swing Top
Dressed it up with jewelry for a semi formal affair
Looked great and was very comfortable
Hi Virginia,
Thanks for writing a review. Enjoy!!
wanted to love it
Color is great! The top just fit all wrong for my body. I think it would work best for women with large breasts. I tried to figure out how it might work, but nothing made sense. I usually wear a 3x, and it was just to big and too boxy on me. Hope you got my email about it as well as the return package. I do love wearing my Vikki Vi clothes and have lived in them during the pandemic! Thank you.
Hi Linda,
Thanks for writing a helpful review. This top can be a bit tricky, so all our customers appreciate insight. We're glad we could help with your return.
Plum Tickled with this Color
I believe I now have 5 or 6 different "purple" colors of this top. I love them all. This version is a very dark color - like a very fine merlot.
This color looks especially good with my new hair color (Zotos 5rr Medium Intense Red). Treat yourself to one of these swing tops today.
Hi Mary Jo,
Thanks for writing such a helpful review. We'd love to see a picture. Enjoy!